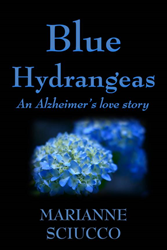 Self-publishing is not for the faint of heart. The amount of work involved is tremendous. - Author Marianne Sciucco
Middletown, NY (PRWEB) May 21, 2014
Marianne Sciucco, nurse author of "Blue Hydrangeas," an Alzheimer's love story, was recently featured in an article in Excelsior College's alumni magazine Live & Learn.
"The Write Stuff" written by senior editor Dana Yanulavich and published in the Spring 2014 issue, discusses the self-publishing explosion of recent years and spotlights four of the college's many alumni who have self-published a book. Sciucco is a 1998 graduate of Excelsior where she earned an Associate in Applied Science, which launched her career as a registered nurse. She also holds a Bachelor of Arts degree in English from the University of Massachusetts at Boston.
"What a privilege it is to be featured in my alumni magazine as a successfully self-published author," says Sciucco. "Little did I know as a nursing student at Excelsior College that I would one day publish my own book."
Long before embarking on a nursing career, Sciucco dreamed of becoming a writer and worked as a freelance newspaper reporter in New England for many years. "I found it impossible to break into the journalism field back then, and I encountered the same resistance when I attempted to break into the publishing field with "'Blue Hydrangeas,'" she says. "Self-publishing is the most difficult thing I've done in my life, but it's so rewarding."
"Blue Hydrangeas" is the poignant, beautiful story of a pair of retired Cape Cod innkeepers struggling with the wife's Alzheimer's. Sciucco first published the novel, often compared to Nicholas Sparks' "The Notebook," on Kindle in April of last year, then in paperback, and recently in audiobook. The book has gathered 64 reader reviews, 46 of them 5-star, and an average rating of 4.7-stars. It's hit number one in Kindle's medical fiction genre four times, is IndieReader Approved by IndieReader, and recently received IndieReCon's first ever "Best Indie Novel Award." Readers can find it on Amazon, Audible, iTunes, Nook, Kobo, Vook, the Create Space eStore, and other online retailers.
About the Author
Marianne Sciucco is not a nurse who writes but a writer who happens to be a nurse. A lover of words and books, she dreamed of becoming an author when she grew up but became a nurse to avoid poverty. She later brought her two passions together and writes about the intricate lives of people struggling with health and family issues. Her next novel "Swim Season" is the story of Aerin, the new girl on the swim team, who challenges a longstanding school record. "Swim Season" is about more than swimming, however, as Aerin grapples with her parents' divorce, her father's new wife, two stepsisters she doesn't want, and her army nurse mother's PTSD and drug addiction following two tours of duty in the Middle East. Available in Fall 2014. Follow Marianne's Adventures in Publishing or keep up with her on Twitter, Facebook, and Goodreads.