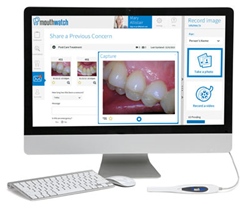 With the entire family in touch with our practice, we improve care and see everyone more regularly.
New York, NY (PRWEB) May 20, 2014
Building a pediatric dental practice is easy to do when you stick with some tried and true methods that are required to grow and compete in today's pediatric dental marketplace.
There are many cost-effective approaches to implement that will help you create the perfect environment for satisfied and engaged patients (who tell everyone about you.)
Here are seven simple suggestions on how to build or boost your pediatric dental practice by utilizing social media, creating unique content and marketing campaigns, embracing technology and teledentistry to increase revenue and patient satisfaction, hosting charity events, creating reward programs to encourage healthy habits and more.
1) Utilize social media
Just about everybody you know uses social media in one form or another, so why not take advantage of it? Social media is a way to extend the relationships that you have with your patients and engage with them more frequently. No longer do your patients have to wait for a recall card or message - now they can learn about special offers, hear what's new at the practice, learn a fun fact and much more. When properly utilized, social media can help you deliver exceptional customer service, while increasing patient trust. Be sure to stick with it and spread the word through specials, contests, and giveaways.
On top of that, social media will help you gather valuable research through customer insights. Feedback is a great way to measure the success of your social media efforts which you can easily adjust as needed. Get someone on your staff to spend a little time each week crafting and scheduling posts to Facebook, Twitter and more to make sure you're in front of your patients regularly. Then promote your social media presence on statements, recall cards, emails and more.
2) Unique content creation
This may seem obvious, but building a website starts with content. The whole purpose of the Internet is to share information, and if your website doesn't contain much information - well, let's just say people won't be staying on your site long enough to care about why you made it in the first place. Sure, they can get your address and phone number, but it can be so much more.
Creating great content that people actually want to read will go a long way to having patients engaged and spreading the word about your practice. If you can provide an experience that people enjoy, then you're going to see those same people write about and link to your website. This is how the Internet works, plain and simple.
If you want people to find your practice, you will also want to increase the number of keywords and search terms that patients use when looking for a new pediatric dentist in their area. Creating great, relevant content will boost you to the top of the results page when searching for their new dentist. Adding a blog to your site is a great way to start driving more traffic and this is something many web hosts or site developers can help with. Just make sure you stick with it.
3) A good marketing campaign starts in the office
How many new patients or treatment proposals have you lost this year because your front desk or office staff dropped the ball? Most of the leads for your practice are going to come in on the phone, and no matter how good your digital campaign is, you will still need a person to convert that lead into a new patient or accepted case. This is where training comes in. Your front desk staff will need to be aware of your digital marketing efforts, and they will need to be trained on how to convert. It is important that everyone in your practice be on the same page when it comes to marketing and the importance of building the practice.
It is important for your potential patients to find out what other patients think of your practice, and this can be accomplished by having testimonials on your website. Your front desk staff can help to source testimonials from existing patients. Remember to be creative, there's a lot of ways to get your patients involved with your marketing efforts.
4) Utilizing technology to improve the practice
Marketing aside, be sure to stay up to date on the latest trends, gadgets and technologies available for your practice. Dentists tend to be focused on tools and materials that are used in-office, but the latest trend in health involves self-monitoring. An example is the MouthWatch Home Dental Monitoring System (http://www.mymouthwatch.com). This intraoral camera and software system allows patients to capture images and securely share them with your practice. Parents love the way it changes the brushing routine at home, and engaged patients are more likely to visit your office on a regular basis.
5) Promote your Charitable Efforts
One of the most cost-effective and fun ways to build your practice is to get involved in your community through charitable efforts. Not only do you gain free publicity, new strategic partnerships, and friends, but you also become a thought leader and well-respected voice in your community. Plus, your entire staff is likely to enjoy the experience and feel good by doing good.
There are endless ideas to get involved with charities and have fun while you're doing it.
One-way is to host a charitable event for "pay what you can" care and promote it to the local news. Volunteer to provide oral health care and hygiene tips to local schools or youth groups to encourage good oral health care from an early age on. Whatever you do, make sure you align yourself with respectable organizations or charities and get the word out. Tie it into your social media campaign to generate more connections and support. Maybe find an eye doctor who could share some costs and provide a vision and dental day.
6) Make sure patients and parents can find you
No one uses the yellow pages anymore. They look on their phone or online for local listings. Make sure that your practice is listed across a number of key directories. It's also important to include your practice on 3rd party review sites such as Yelp and Healthgrades. Many people will look for a new dentist on these sites, and if you can get your patients to review you there, it will drive many new patients into your dental chairs.
7) Regular checkup rewards program
Why not make oral health fun for children? We all know that it can be difficult to get kids to brush their teeth and floss. By creating and implementing a regular checkup rewards program, you will encourage kids to take better care of their teeth. People love reward systems, especially kids. One idea for a reward program would be to give a discount for not having any cavities or other dental health issues. Not only does it encourage regular checkups and patient compliance, but it also encourages life-long positive dental care habits. Or have patients send images via MouthWatch every month or two to make sure they are taking great care of their teeth.
There are so many ways to build your pediatric dental practice. By utilizing online platforms, tools, technologies, and strategies to engage with your patients, you will build a solid foundation in which your practice can grow from. The most important thing is to get started and stick with it.
###
MouthWatch, LLC was formed with the mission to improve communication, dental care, education, and connection between dentists and their patients through teledentistry. MouthWatch is the first and only product on the market that easily, securely and intelligently puts these technological advances in the combined hands of the patient and dentist. Learn more about MouthWatch at the AAPD Annual Session in Boston, May 23-25.