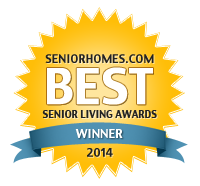 Seattle, WA (PRWEB) May 20, 2014
SeniorHomes.com, a leading, nationwide directory of senior housing and senior care options, is pleased to announce Winners for the 2014 Best Senior Living Awards, a program designed to recognize the best senior living blogs, websites, newsletters and more.
A panel of 21 leading senior living experts hailing from all corners of the senior living industry rated finalists (determined based on popular vote as of April 28, 2014) based on a set of standardized, category-specific rating criteria. Finalists were evaluated by experts on criteria such as the breadth and depth of content provided on their websites and the quality, accuracy and uniqueness of content.
More than 150 finalists were judged by the expert panel, encompassing more than 21,000 votes from the online community. In total, nominees accumulated more than 29,000 votes.
"We're helping emerging companies and experts with value to offer get noticed and gain visibility in the senior living community, while at the same time helping a family caregiver find an excellent source of information for the challenges she's facing," says Chris Rodde, CEO of SeniorHomes.com, "The tens of thousands of votes nominees receive each year is a clear indication that it's a valued process. And truly, each and every nominee is worthy of an award. They all make exceptional contributions to the senior living space."
Winners by Category Include:
Consumer Categories:
Most Inspiring Seniors

Winner (based on popular vote): Luella Shell, 99 year old resident at Merrill Gardens of Santa Maria
Best Caregiver Websites

Elder Industry
People's Choice: Answers for Elders
Best Caregiver Newsletters

Winner: AgingCare.com
People's Choice: The Caregiver's Advocate
Best Books for Aging and Caregiving

Winner: The 36-Hour Day
People's Choice: A Bridge Between: Northern Italy Come Hell or High Water
Best Boomer Resources

AARP
People's Choice: Boomer to Boomer Online
Best Senior Living Blogs by Individuals

Bob DeMarco
People's Choice: My Alzheimer's Story
Best Senior Living Blogs by Organizations

Sunrise Senior Living
People's Choice: EPOCH Senior Living Blog
Biggest Senior Living Advocate

AARP
People's Choice: LeadingAge
Most Innovative Senior Living Products

Best Government & Education Resource Sites

U.S. Department of Veteran's Affairs
People's Choice: Florida Department of Elder Affairs
Industry Categories:
Best Senior Living Provider Websites: Large Companies

Holiday Retirement
People's Choice: Provision Living
Best Senior Living Provider Websites: Small Companies (< 10 communities):

Halcyon Hospice
People's Choice: Approved In-Home Health Care
Social Media Rockstars – Individuals:

Winner (based on popular vote): Judi Bonilla
Social Media Rockstars – Organizations

SeniorAdvisor.com
People's Choice: Bild and Company
Best Senior Living Industry Resources

GlynnDevins Blog
People's Choice: Care and Compliance Blog
Best Sales and Marketing Consultants

Winner (based on popular vote): One on One
Several judges served on this year's panel for the fourth consecutive year, such as Bart Astor, author of multiple books, including Baby Boomers Guide to Caring for Aging Parents and AARP Roadmap for the Rest of Your Life: Smart Choices about Money, Health, Work, Lifestyle, and Pursuing Your Dreams, and Anthony Cirillo, a Healthcare Consultant, Senior Health Expert, and About.com Guide to Assisted Living, among others.
Returning judges were joined by several experts who participated as judges for the first time this year, such as Seth Garber, President and CEO of Bild & Company, and Dan Hutson, Vice President of Communications and Marketing for be.group, among others. To learn more about this year's expert judging panel, visit http://www.seniorhomes.com/p/2014-best-senior-living-awards-judges/.
To read more about this year's Best Senior Living Awards, Finalists, Winners and People's Choice Winners, visit http://www.seniorhomes.com/p/2014-best-senior-living-awards/.
About SeniorHomes.com
SeniorHomes.com (http://www.seniorhomes.com) is a free resource for families looking for senior housing or senior care for a loved one or themselves. SeniorHomes.com features expert-written articles, a free care advisor service and a comprehensive directory of care options with community ratings and family reviews.