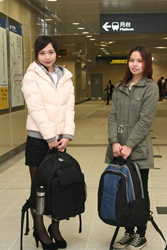 Regular Backpacks with Added Ballistic and Stab/Spike Resistant Functions
Taipei, Taiwan ROC (PRWEB) May 20, 2014
SHARPE SECURITY (SHARPE) is proud to inform everyone today they are taking a big step forward on ballistic backpack designs. They are launching new ballistic everyday backpacks incorporating unprecedented design concepts and they are honored to tell everyone these backpacks are designed in Taiwan: http://www.sharpe-security.com.
Similar to other ballistic backpack designs, a NIJ IIIA ballistic panel inserted into a SHARPE ballistic everyday backpack is required to provide appropriate protection from bullets. However, this ballistic panel is also designed to fit in a SHARPE ballistic vest carrier as the ballistic vest back panel. This feature makes SHARPE backpacks suitable for secret agents, law enforcement officials, body guards, security guards, common people, etc. to carry when performing undercover tasks or in everyday lives without compromising comfort and agility. When gun threats are assumed or foreseen and wearing a ballistic vest is mandatory, this backpack ballistic panel can be removed from the SHARPE backpack and put into the SHARPE ballistic vest carrier to become the back panel of the SHARPE ballistic vest. If someone has a SHARPE backpack and he or she also has a demand for a ballistic vest, he or she just needs to buy a ballistic vest carrier and a ballistic vest front panel. It gives cost-effectiveness.
Besides the unique design mentioned previously, Sharpe also implements another unprecedented ballistic pull-down/drop-down defense (P.D.D./D.D.D.) mechanism which offers additionally expanded protection as an option. This feature allows a user to instantly expand the bullet resistant coverage as much as twice the original coverage. The P.D.D./D.D.D. mechanism can have a SHARPE soft ballistic panel fitted in for NIJ IIIA or a hard ballistic panel to reach NIJ III protection depending on backpack models. They are also designed to be used independently and separately as a hand bag or a handheld ballistic shield.
Furthermore, an additionally internal compartment has been designed for optionally putting in a SHARPE stab/spike resistant panel which further makes SHARPE backpacks both bullet resistant and stab/spike resistant.
SHARPE ballistic backpacks are designed for the general public who thinks gun/knife threats protection can be the additional features for their backpacks or the special task personnel who thinks besides gun/knife threat protection, comfort, easy to use, easy to carry, and multi-functions are needed.
SHARPE offers not only ballistic backpacks but also other bullet-resistant products such as ballistic helmets, vests and shields; electroshock products such as stun guns and stun batons; personal pepper spray with or without the alarm function. They offer OEM/ODM services of these kinds of products to clients as a preferred cooperation model. Said by their general manager, Mr. Michael Wang, "Our goal is to provide all of our loved ones a better prevention and protection from unexpected gun/knife threats."
Currently, Sharpe has two main backpack models YH001 and YT001. For more detailed product information and specifications, please check the website http://www.sharpe-security.com or contact them directly.
About SHARPE
SHARPE is a brand created in 2013 by two companies, Yungyi International Merchandise Co., Ltd. and Global Merchandise Link Inc., to provide defense and security related products to worldwide customers. Before SHARPE was created, Yungyi Int'l's general manager Michael Wang has been studying and working on related fields for more than 2 years.
Global Merchandise Link Inc. (GML) was established in Oct 2006 to facilitate the ever frequent trades between western and eastern countries. Since 2006 GML has built good relationships with worldwide contacts, representatives and/or distribution partners in respective business fields. GML's partners in Asia are specialized in offering electronic components, consumer electronics, defense and security products, and garment-making and -trading. In Jan 2011, GML HCMC Vietnam office was established to further seek opportunities in the ASEAN region. GML's website: http://www.gml-group.com.
Yungyi International Merchandise Co., Ltd. (YUNGYI) was established in Sept 2009. YUNGYI, besides aforementioned business fields, also offers funeral services to Taiwanese people and provides repatriation services to deceased foreigners in Taiwan. YUNGYI's website: http://www.yy-int.com.
Contact
SHARPE
Mr. Michael Wang, Sales Contact
Tel: +886-2-2700-8682
Fax: +886-2-2700-5513
Email: sales(at)sharpe-security(dot)com
http://www.sharpe-security.com