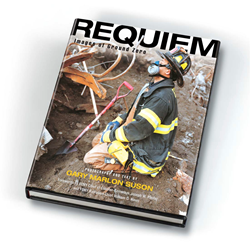 It feels great to be able to use my book to help charities. It's always gratifying to 'give back' and support FDNY causes. - Gary Suson, Official Photographer at Ground Zero
New York, New York (PRWEB) May 19, 2014
Official Ground Zero Photographer Gary Suson, who documented every gripping moment of the "Recovery Period" at Ground Zero for the Uniformed Firefighter's Association in 2001 will be on hand at St. Paul's Chapel across the street from the World Trade Center site this week, signing copies of his acclaimed Barnes & Noble book. St. Paul's Chapel will host Mr. Suson, an FDNY Honorary Battalion Chief, where he will sign & sell copies of "REQUIEM: Images of Ground Zero." As always, proceeds from the sales will be shared with the FDNY Ralph Geidel Cancer Fund and the FDNY Foundation for the Children of Fallen Firefighters.
The collection of images was dubbed "Rare Photos" by the New York Times and has appeared on CNN, FOX NEWS, The BBC and almost every media outlet in the world. Although Suson (who founded the Ground Zero Museum Workshop in NYC's Meatpacking District) rarely does signings, he will begin signing one day after the 9/11 Memorial Museum opens to the public, on Thursday May 22 and sign through Saturday May 24th, at St. Paul's Chapel on Broadway & Vesey Streets in lower Manhattan across the street from the Memorial Museum. St. Paul's Chapel is the oldest surviving Church in Manhattan and miraculously survived the collapse of both World Trade Center Towers on 9/11. The Chapel was then used during the 9/11 cleanup as a relief center for tired and hungry FDNY, NYPD and other Recovery workers.
Ground Zero Museum spokesperson Carole Barnes stated, "It's an honor for Gary to be there during the opening week of the 9/11 Memorial, as well as during Fleet Week. Gary has been quietly raising thousands of dollars for FDNY & 9/11 charities for years, but this will be a very special and significant book signing for him." Don't worry if you aren't in New York City, for those unable to make it to Ground Zero, autographed copies of "Requiem" can be purchased on the Museum's new website and online shop: http://www.GroundZeroMuseum.org. Ground Zero Museum Workshop is located in the Meatpacking District and focuses solely on the "Recovery Period" and uses self-guided audio tours with real Ground Zero sound effects to educate guests about what it was like for firefighters to be on the front lines after the 9/11 attacks. It features 100 Images & Artifacts. Tickets: Call ZERVE at 212-209-3370. The Museum plans to continue to stay open for guests who wish to learn more in-depth details and stories about the Recovery at Ground Zero. The Museum was recently listed in Trip Advisor's "Top 25 Museums in the USA" Awards for 2013.