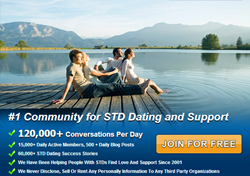 Los Angeles, California (PRWEB) May 23, 2014
PositiveSingles.com, the most trusted online dating site for people who are living with Herpes, HPV, HIV or other STDs, started a hot topic about whether people's profiles are important for others this month.
The result showed that 85 percent of the participants admitted that profiles are essential for them. They start communicating or responding the emails to others after checking their profiles. They think that profiles let them know about other people. It becomes easier for them to know his or her interests through their profiles. Then, they may think to start an e-mail or a wink. Members also confessed that profile acts as an indicator that allows them to understand whether a person is suitable or trustworthy. Also profiles can show the attitude of the person towards a relationship.
Unlike 85 percent people who described the significance of profiles, rest of the 15 percent members do not take profiles seriously. They are of the view that profiles are not true and most write false information about themselves in their profiles. So it does not show the true personality of a person. They chat with potential partners without looking at the profiles. They confessed that they seldom check a profile and they often start knowing others after chatting and communicating with them.
About PositiveSingles.com
As the largest and most trusted online dating site for people living with Herpes, HPV, HIV / AIDS, Hepatitis, Chlamydia, Gonorrhea, Syphilis and other STDs, PositiveSingles.com is completely anonymous and cares about members' privacy more than other sites. You are not required to submit any information that you are not comfortable with on this site. Whatever you are looking for Herpes dating, HPV dating, HIV AIDS dating, or any other STD dating, PositiveSingles.com is the best place.