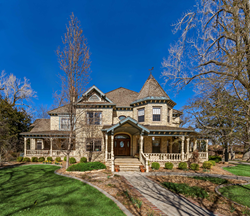 This unique property offers an idyllic setting for fishing, hunting, horseback riding, or simply relaxing with family and friends at the heated saltwater pool.
Pratt, Kan. (PRWEB) May 19, 2014
The owners of a 157-acre outdoorsman's paradise located less than ten minutes from Pratt, Kan., the "Gateway to the High Plains" and the center of whitetail deer country, are showcasing it through a live on-location auction with Grand Estates Auction Company, the industry leader in luxury real estate auctions. The timeless Victorian five-bedroom stone exterior home and property featuring mature timber, tillable land, equestrian facilities, pastures, and stocked lakes and ponds will be sold at auction with no minimum bid on Tuesday, May 27th at 2:00 p.m. CDT.
"This unique property offers an idyllic setting for fishing, hunting, horseback riding, or simply relaxing with family and friends at the heated saltwater pool," stated Grand Estates Auction Company Director of Sales Development Stacy K. Reich. "The owners are motivated sellers who understand that the live auction process provides fair market value in its purest and quickest form. Interested buyers should come ready to bid and name their price on this extraordinary buying opportunity."
Just one hour from Wichita, Kan., the five-bedroom, five bathroom and two half-bathroom main house provides every amenity imaginable. The estate exemplifies easy living at its best, featuring an open floor plan, cathedral ceilings, natural light and magnificent views through the expansive windows and French doors, hardwood flooring throughout, beautiful cherry millwork, gourmet kitchen, main-level master suite with sitting room and en-suite with Jacuzzi tub, a game room, a gentleman's library, covered porches, and three-car garage. The estate also includes a four-bedroom guesthouse with lake views.
Arriving through a lane of magnificent red oaks, the vast beauty of the estate, its barns, lakes and ponds, and pastures is evident. An outdoorsman's paradise, the property is situated near the state headquarters for the Kansas Fish and Game Department in Unit 16, the nation's premier whitetail deer hunting area. The new homeowners will also enjoy top quail, pheasant, turkey, and waterfowl hunting, as well as fishing in the stocked private lake and ponds. For the equestrian, there are two horse barns, pastures and an 80-foot x100-foot workshop. The home is easy to reach by private airplane via the Pratt Regional Airport and private aviation.
Grand Estates Auction Company specializes in creating comprehensive global marketing campaigns for luxury properties and has the highest closing rate in the industry. There are no contingencies, no lengthy negotiations, and timelines for closing are already established. To help buyers make an informed purchase, a comprehensive due-diligence packet is available, and ample time is allotted for tours and inspections prior to the auction. Similar to rare artwork that does not have comparable pieces to set the value, exceptional properties such as this are well suited for auction, where bidders set the market value.
The Pratt auction will start promptly at 2:00 p.m. on Tuesday, June 3rd. Provisions for remote bidding can be arranged. The property will be available for prospective bidders to preview beginning Friday, May 30h, at 11:00 a.m., with daily preview times scheduled through the date of the auction. Buyers may contact Grand Estates Auction Company's auction information office to schedule an appointment during one of the preview times at 877-376-9560. A $100,000.00 certified check or personal check along with a bank letter of guarantee will be required to register to bid. Real estate agents and brokers are fully protected and encouraged to participate.
Grand Estates Auction Company is the leader in the niche market of auctioning luxury real estate, specializing in properties valued at $2 million and above throughout North America, the Caribbean, and select international destinations. Additional upcoming auctions include a waterfront architectural masterpiece in Bay Harbor, Mich., on Tuesday, June 24th and an elegant Southern mansion in Nashville, Tenn., on Tuesday, July 22nd. Based in Charlotte, N.C., the company was established in 1999 and was the first of its kind. For more information and auction details visit http://www.GrandEstatesAuction.com.