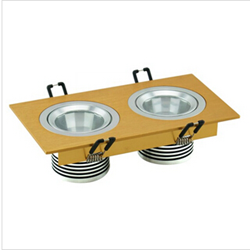 (PRWEB) May 19, 2014
Recently, COBLights.com, one of the world's leading lighting manufacturers, has released its new range of LED ceiling lights. What's more, the company is now providing big discounts on these practical ceiling lights. According to the CEO of the company, COBLights.com wants to attract more distributors by launching the special offer. Now, all its clients can enjoy a low rate, up to 28 percent off.
"We are very excited to unveil the new collection of LED ceiling lights. All our workers have been working in the lighting industry for many years. We insist on manufacturing top quality LED products for worldwide clients; all our items are carefully made by skilled workers. Additionally, most of our lights sell well in the market. I am sure these new LED ceiling lights will be popular among the international customers. Please note that the special offer will last until June 03," the company's marketing specialist says with a big smile.
The company's LED ceiling lights are delicately made with high quality materials. Quality checks are very strict in COBLights.com. The main purpose of the supplier is to help every distributor to get what they need.
For additional information, all COBLights.com's are priced reasonable. Whatever a customer's budget is, COBLights.com will have something for him.
About COBLights.com
COBLights.com is a famous company of high quality COB products. The company insists that COB LED products are more suitable than conventional LED packages when it comes to various lighting applications. All its items are featured with great power density, efficient heat dissipation, small space requirement and high performance. It wants to make online shopping more convenient and economical for worldwide clients.
For more information about its affordable items, customers can visit: http://www.COBLights.com/.