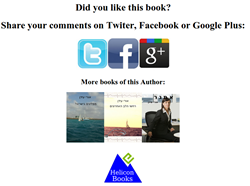 (PRWEB) May 20, 2014
Helicon Books, an advanced e-book technology company, regularly updates features to its social DRM service. Traditionally Social DRM is a method of protecting a digital book from illegal copying, by adding the buyer name to the book and thus protecting the seller. Now, with the integration of these new features Social DRM is much more than a protection service. The new features combine an optional automatic conversion to mobi (Kindle format) and sharing in social networks.
The social DRM is directly aimed at digital book store owners, who will mostly benefit from the advanced features available to their buyers: The first feature enables an optional e-book conversion to mobi format. (This in essence is a Social DRM service for Kindle). With this feature the digital book store can protect both EPUB and mobi formats.
The second feature assists in promoting other e-books of the same author or series: By adding a new page at the end of the book users can automatically share links with their contacts via Facebook and other social networks, encouraging those who enjoy the book to promote it and introduce their network to additional titles from the author.
Ori Idan, CEO at Helicon Books says: "As a technology company aiming to lead the next generation of digital book stores, and help publishers distribute their e-books, we are constantly researching the market and strive to combine new technologies to create efficient tools that enable its customers to sell more books."
Helicon Books latest Social DRM features bring the e-book tool right up alongside today's trends for social sharing and allow publishers to promote additional books within the bookstore itself, capturing readers' attention and potentially keeping them as customers for longer.
Read more about Helicon Books social DRM at: http://www.heliconbooks.com/article/socialDRM.