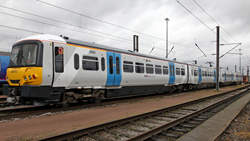 This video is a unique insight into this multi million pound project
(PRWEB UK) 19 May 2014
First Capital Connect (FCC) passengers on the Great Northern route can see their morning trains like they have never seen them before, thanks to a video which shows a carriage being stripped out and refurbished.
The video shows a Class 365 train going through the refresh programme, worth in excess of £31 million for the entire fleet. The seats are removed, doors unhooked and the carpet pulled up to leave an empty train shell – a unique sight for the everyday passenger. The viewer sees the exterior repainted in a new livery and new-look features fitted. Engineers working on the two year project also explain their work.
The refresh programme will see all 40 'Class 365' trains which operate on the Peterborough, Cambridge and King's Lynn routes to London King's Cross updated with fresh seat upholstery, new flooring, refurbished finishes and a new, striking livery. Each train has also been through a major engineering overhaul to maintain its levels of reliability. The work, funded by Eversholt Rail who leases the trains to FCC, is being carried out by Bombardier Transportation at their workshop in Ilford, Essex.
Recently the third refreshed train re-entered service. Upgrading each train requires 560 hours to refurbish all the seats, 200 square metres of new flooring and a total of 150 new light bulbs.
FCC Managing Director David Statham said:
"This video is a unique insight into this multi million pound project. It will allow our passengers who use these trains to see the complexity of the project and the hard work carried out by the skilled workers at Bombardier to deliver such a fantastic result.
"We are excited about the extra improvements that will soon be added to the trains including a wheelchair accessible toilet and LED lighting."
Eversholt Rail Chief Operating Officer Andy Course said:
"We are delighted to continue to invest in our trains and the work being undertaken by Bombardier seen here which gives a good sense of what goes on behind the scenes to improve the comfort and safety for First Capital Connect's passengers."
Francis Paonessa, Managing Director UK, Bombardier Transportation said:
"It has been great for our team at Ilford to be involved in this film, which illustrates the extent of skilled work behind the scenes in introducing new interiors and additional features on the Class 365 trains, making them more comfortable, accessible and reliable for passengers."
ends
Notes to Editor
Pictures of the refresh programme can be found here: https://drive.google.com/folderview?id=0B1oujwXPy9eIS2lXN1BFMHFHU2M&usp=sharing.
The video of the refresh programme can be found here: https://www.youtube.com/watch?v=w6xplP75how.
About First Capital Connect
First Capital Connect (FCC) operates trains from London to Bedford, Brighton, Wimbledon and Sutton on the Thameslink route and Peterborough, Cambridge and King's Lynn on the Great Northern route.
Approximately 180,000 people travel with FCC every weekday – 95,000 on the Thameslink route and 85,000 on the Great Northern route.
There are 40 4-carriage Class 365 trains in the First Capital Connect fleet. They were built by ABB at York from 1994 to 1995.
The trains operate services out of King's Cross to Peterborough, Cambridge and on to King's Lynn.
For further information contact fcc.press(at)firstgroup(dot)com or call 0345 4700 789.
About Eversholt Rail Group
Eversholt Rail Group owns approximately one third of the UK's stock of passenger trains – some 3,500 vehicles – and more than 1,000 freight wagons and locomotives. Over the past two decades, it has invested more than £2bn in rolling stock and today is a supplier to many of the UK's leading Train Operating Companies. Eversholt Rail Group is wholly owned by Eversholt Investment Group, which is owned by a consortium consisting of investment funds managed by 3i Infrastructure plc, a Jersey-incorporated, closed-ended investment company, Morgan Stanley Infrastructure Partners, a leading infrastructure investment platform, and STAR Capital Partners, an independent investment fund manager.
Further information can be obtained on http://www.eversholtrail.co.uk or contact Wendy Filer Marketing and Business Support Manager, 02073805057 or wendy.filer(at)eversholtrail(dot)co.uk.
About Bombardier Transportation
Bombardier Transportation, a global leader in rail technology, offers the broadest portfolio in the rail industry and delivers innovative products and services that set new standards in sustainable mobility. BOMBARDIER ECO4 technologies – built on the four cornerstones of energy, efficiency, economy and ecology – conserve energy, protect the environment and help to improve total train performance for operators and passengers. Bombardier Transportation is headquartered in Berlin, Germany, and has a very diverse customer base with products or services in more than 60 countries. It has an installed base of over 100,000 vehicles worldwide.
For further information contact Jeanette Bowden on 07971 850 606 or jeanette(at)networkpr(dot)co.uk.