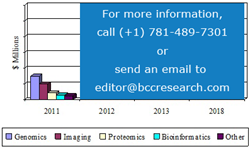 Global Market for Biomarkers to Reach $53.6 Billion in 2018
Wellesley, Mass., (PRWEB) May 19, 2014
BCC Research (http://www.bccresearch.com) reveals in its new report, BIOMARKERS: TECHNOLOGIES AND GLOBAL MARKETS, the global market for biomarkers is expected to grow to $53.6 billion by 2018, with a five-year compound annual growth rate (CAGR) of 12.8%. The bioinformatics category, the fastest moving segment overall, is expected to move at a significant 17.4% CAGR.
Targeted therapies, improved patient selection for clinical trial criteria, early drug rationalization, and proactively identifying adverse events for patients are some of the leading applications for biomarkers technologies. Genomic applications, which help to improve drug effectiveness, represents the largest segment in the overall biomarkers market and is expected to reach $26 billion in 2018.
However, bioinformatics, which plays a vital role in disease analysis, as well as biomarker discovery and validation, is expected to surge from $2.3 billion in 2013 to nearly $5.2 billion by 2018.
"The growth of the bioinformatics market is driven by a decrease in the cost of DNA sequencing, increasing government initiatives and funding, and growing use of bioinformatics in drug discovery and biomarkers development processes," says BCC Research biotech analyst Jackson Highsmith. "However, factors such as a dearth of skilled personnel to ensure proper use of bioinformatics tools and a lack of integration of a wide variety of data generated through various bioinformatics platforms are hindering the growth of the market."
BIOMARKERS: TECHNOLOGIES AND GLOBAL MARKETS provides an overview of the global biomarkers market. It includes current and projected product forecasts during the period covered (2013 to 2018). New products approved in 2012 and 2013 by the FDA, and those products expected to be approved within the forecast period are also included. In addition, the study provides analyses of leading and emerging competitors in the current market. Profiles of manufacturers of leading products as well as biotechnology companies with novel products in development are analyzed to define their specific product strategies employed. The report also assesses companies poised to introduce products during the forecast period and discusses how these introductions will change the face of the competitive environment. Further, the competitive environment is examined with a special focus on how new products and technologies are influencing the current standard of care.
This report is intended for business planners, acquisitions specialists, licensing strategists, product managers, market research analysts, investors, investor consultants, and anyone interested in the Biomarkers market, its products, its industry participants and its future.
Editors and reporters who wish to seek further information, should contact Steven Cumming at steven.cumming(at)bccresearch(dot)com.
About BCC Research
BCC Research publishes market research reports that make organizations worldwide more profitable with intelligence that drives smart business decisions. These reports cover today's major industrial and technology sectors, including emerging markets. For more than 40 years we've helped customers identify new market opportunities with accurate and reliable data and insight. These include, but are not limited to, market sizing, forecasting, industry overviews, and identification of significant trends and key competitors. We partner with analysts who are experts in specific areas of industry and technology. Their up-to-date knowledge gives our customers unbiased measurements and assessments of these vital markets. Because our reports offer a global focus, our customers include the top companies in industries around the world as well as universities, major business schools, start-ups, consulting firms and investment companies. BCC Research is a unit of Eli Research LLC.
Data and analysis extracted from this press release must be accompanied by a statement identifying BCC Research LLC, 49-2 Walnut Park, Wellesley, MA 02481, Telephone: (+1) 781-489-7301; Email: editor(at)bccresearch(dot)com as the source and publisher. Thank you.