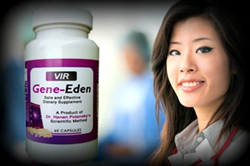 We are happy to see the increased importance that the biotech industry is placing on developing treatments that target viruses. - Mike Evans, polyDNA
Rochester, NY (PRWEB) May 23, 2014
polyDNA, the maker of Gene-Eden VIR and Novirin, congratulates Novavax (NVAX) for laying "the groundwork for a vaccine to combat Middle East Respiratory Syndrome, or MERS, should the number of people infected with the virus continue to rise as some public health officials fear (1)." In laboratory tests, Novavax was able to show that the vaccine in development successfully blocked infection with the MERS virus (1). However, "the vaccine is still considered highly experimental and would need additional safety and efficacy tests before it could be used in humans (1)."
There are also drugs in development that aim to block infection with common viruses, such as the herpes simplex virus (HSV). For example, a separate study AiCuris "found that the drug - called pritelivir - substantially curbed 'viral shedding' in people with genital herpes. That means it decreased the amount of time the virus was active and potentially transmissible to patients' sexual partners… the findings, reported in the Jan. 16 issue of the New England Journal of Medicine, are based on 156 patients followed for just four weeks. Experts cautioned that the study is preliminary and offers a "proof of concept.'" (See WebMD, published on January 15, 2014) (2).
What treatments are currently available for viral infections?
It depends on the virus, but treatments can be divided into two groups: oral and topical. These can further be divided into drugs and natural remedies. These treatments can then be broken down into yet another two categories, those against active viruses and those that target latent viruses.
Gene-Eden-VIR and Novirin are natural, oral, latent virus targeting products. Their antiviral formula was designed to work against some of the most common latent viruses, including HPV, herpes simplex virus (HSV1 and HSV2), the Epstein Barr Virus (EBV), the human cytomegalovirus (CMV), and hepatitis B and C (HBV and HCV).
Results of two separate post-marketing clinical studies that followed FDA guidelines showed that the Gene-Eden-VIR and Novirin formula reduced symptoms associated with these viruses.
"We are happy to see the increased importance that the biotech industry is placing on developing treatments that target viruses. We feel proud to be the leader of this movement. We also hope that our emphasis on developing natural products against viruses will be recognized and followed by others." - Mike Evans, polyDNA
Novirin shares the same formula as Gene-Eden-VIR. The difference between the two is that Novirin has higher quality, more expensive ingredients. The Novirin/Gene-Eden-VIR formula was tested in two post-marketing clinical studies published in September 2013 and March 2014, respectively, in the peer reviewed medical journal Pharmacy & Pharmacology (3).
Interested individuals can view the two published studies here: http://cbcd.net/Gene-Eden-VIR-Clinical-Study.php and http://cbcd.net/Gene-Eden-VIR-Decreases-Fatigue-Clinical-Study.php.
Up to 70% of those studied reported a decrease in symptoms associated with CMV infection, and users of the Novirin/Gene-Eden-VIR formula experienced an increase in overall health (3).
Each ingredient of Gene-Eden-VIR and Novirin was chosen through a scientific approach. Scientists scanned thousands of scientific and medical papers published in various medical and scientific journals around the world to identify the highest quality, safest, most effective natural ingredients that target latent viruses.
A second clinical study showed that the Novirin/Gene-Eden-VIR formula decreased physical and mental fatigue. (See Pharmacology & Pharmacy, from March, 2014) (4).
To learn more about Novirin, visit http://www.novirin.com and about Gene-Eden-VIR, visit http://www.gene-eden-vir.com.
All orders of these products are completely confidential, and no information is shared or sold to any third party. Privacy is assured.
References:
(1) The Download: Novavax has laid the groundwork for MERS vaccine, executives say. Published May 11, 2014.
http://www.washingtonpost.com/business/capitalbusiness/the-download-novavax-has-laid-the-groundwork-for-mers-vaccine-executives-say/2014/05/11/dfb03492-d494-11e3-95d3-3bcd77cd4e11_story.html
(2) Experimental Drug Shows Promise for Genital Herpes. Published on January 15, 2014.
http://www.webmd.com/sexual-conditions/hpv-genital-warts/news/20140115/experimental-drug-shows-promise-for-genital-herpes-treatment
(3) Gene-Eden-VIR Is Antiviral: Results of a Post Marketing Clinical Study. Published in September 2013.http://www.cbcd.net/Gene-Eden-VIR-Clinical-Study.php
(4) Gene-Eden-VIR Decreased Physical and Mental Fatigue in a Post Marketing Clinical Study That Followed FDA Guidelines; Results Support Microcompetition Theory. Published in March 2014. http://www.cbcd.net/Gene-Eden-VIR-Decreases-Fatigue-Clinical-Study.php
polyDNA is a biotechnology company that develops dietary supplements using the unique scientific method developed by Dr. Hanan Polansky, which is based on Computer Intuition.
In addition to his unique scientific method, Dr. Polansky published the highly acclaimed scientific discovery, called Microcompetition with Foreign DNA. The discovery explains how foreign DNA fragments, and specifically, DNA of latent viruses, cause most major diseases.
polyDNA developed Novirin, an antiviral natural remedy that helps the immune system kill latent viruses.