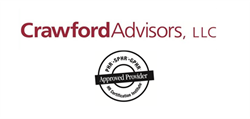 Crawford Advisors' monthly webinar series keeps employers up to date on compliance and benefits administration.
Hunt Valley, MD (PRWEB) May 27, 2014
Join attorney Patrick Haynes for this complimentary HRCI pre-approved webinar*, as he discusses the increased DOL/IRS activity relating to Welfare Plan Audits. Attorney Haynes will review the audit process, helping companies mitigate the likelihood of an audit, and helping develop a plan for an effective response in the event organizations face a DOL/IRS audit. In 2013, the DOL's Employee Benefits Security Administration handled more than 200,000 employee complaints. These complaints centered around eligibility, communication (SPD's/SAR's), claims issues, etc. In anticipation of this, the DOL and the IRS hired and trained over 700 employees to conduct such audits. This has resulted in an increased likelihood of audits. Crawford Advisors helped companies navigate through two of these audits in the past 60 days.
Topics include:

Key ERISA-required documents typically requested by DOL auditors
DOL audit letter changes, grandfathered status, plan design, and administrative compliance
Expanded DOL powers including civil and criminal penalties
DOL audit process, on-site visits and interviews, identification of violations, compliance requirements
How to respond to a DOL audit, preparing personnel, documenting materials
Wednesday, May 28, 2014, 12:00 p.m. - 1:00 p.m. EDT
Space is limited - click on this link to register: https://www1.gotomeeting.com/register/938841017;
Or watch this and other Crawford Advisors Benefits webinar on demand at: http://www.crawfordwebinars.com/.
Open to all benefits professionals, but not other brokers or agents.
About Crawford Advisors, LLC
Crawford Advisors is a full-service benefits consulting and brokerage firm. Crawford has invested heavily in technology and an expert team to bring sophisticated solutions and comprehensive services to help organizations manage and deliver the best value for health and welfare benefits. Crawford Advisors provides:

Benefits Consulting and Brokerage
Benefits Administration
Flexible Spending Accounts
COBRA
Compliance
Employee Communications
Employee Health Improvement
Crawford Advisors, LLC, understands that employee health benefits are often large expenses with complex compliance requirements. Crawford Advisors is committed to providing the brightest consulting talent to help manage cost, improve the health and productivity of employees, and add profits to their clients' bottom line. Crawford Advisors expert team helps organizations deliver the best value for health and welfare benefits.
This webinar has been approved for 1 HR General recertification credit hour toward PHR, SPHR and GPHR recertification through the HR Certification Institute. The use of HRCI and/or the HRCI seal is not an endorsement by the HR Certification Institute of the quality of the program. It means that this program has met the HR Certification Institute's criteria to be pre-approved for recertification credit. Only the live webinar is approved for the recertification credit.