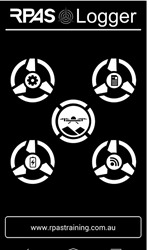 (PRWEB) May 20, 2014
Available today, the app RPAS LOGGER LITE (RPAS is the new official term for Drones and is Remotely Piloted Aircraft Systems) offers all professional and hobby Remote Pilots, Drone Pilots, UAV Controllers and Radio Control pilots an integrated application to log their personal flying time while at the same time recording the flight duration for the aircraft and batteries. This creates an integrated flight management system including maintenance and battery management.
Features include:

Full pre and post flight logging of individual cell voltages for LIPO batteries and other battery types
When charging your battery you can log your pre and post individual cell voltages and internal resistance for each cell.
For each RPA (UAV / Drone) you fly you can configure a checklists for pre-flight, post-flight and maintenance for each Remotely Piloted Aircraft. You can define checklists for all types of RPA like DJI Phantom, S800, S1000, AR.Drone / Parrot Drone, ScanEagle, Zypher3 etc
Configurable checklists for pre-flight and post-flight checks for each Accessory for all or a particular RPA. This can include Gimbals, GPS units, FPV camera etc
In-Flight timer with low battery, very low battery and critical battery alarms that can be configured for each battery mAh associated with each RPA. This will give you an audible alarm at each configured time while you are flying.
Reporting functions for batteries, pilots and RPA. (More to come soon)
A Barcode scanner for fast battery, RPA and accessory access. (Instead of typing in or selecting an item you can just scan the barcode with your phone camera and it will pre-fill the details saved against that barcode)
You can download RPAS Logger Lite at:
https://play.google.com/store/apps/details?id=com.aerosdb.rpaslogger.
RPAS Training and Solutions Pty Ltd ( http://www.rpastraining.com.au/rpas-logger ) is Australia's leading provider of RPA / UAV Training and professional RPAS / UAS services for the civilian market to comply with the Civil Aviation Safety Authority (CASA) regulations. (CASA is the FAA equivalent of Australia) and in the process of opening offices in the USA around September 2014.