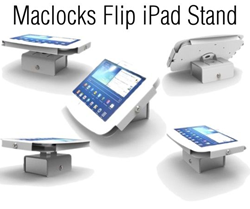 The screen is no longer a permanent structure that can't be altered. Rather than asking the client to awkwardly lean over the desk while the clerk averts their eyes, the Flip rotates the screen to the clients side.
(PRWEB) May 20, 2014
Maclocks Flip iPad Enclosure Kiosk is made popular by its unique flipping motion. This distinctive feature is extremely convenient for businesses that rely on customer interaction, because it allows a tablet screen to be easily shared by opposing sides of a table. The Flip gently rotates the tablet between portrait or landscape orientation modes for a fully functional iPad display unit. It can be mounted gracefully and steadily on any countertop, wall or flat surface.
Businesses that use tablets will relish in the simplicity the Flip solution delivers to both customers and employees. Customers won't have to reach across to the employee side, and employees will no longer feel invaded by customers who need to see the screen. Businesses who thought tablets had to be held by customers to fill out a form risked theft and damage to the device. The Flip Tablet Enclosure Kiosk is conducive because the employee can simply pivot the tablet screen to face the customer for that extra level of comfort and privacy.
"The same can be said about car dealerships, banks or any business where customers are often asked to fill out personal information and provide their signature numerous times," says Assaf Katan, Maclocks CEO. "The screen is no longer a permanent structure that can't be altered, employees can now use the Flip to rotate the screen to the clients side. The Flip solution makes these potentially intense experiences much more pleasant for everyone involved."
Additionally, bars and cafes are both settings that will benefit from the Flip's slight size, because they are typically limited in room for anything that is not completely necessary. Rather than waste space on a bulkier outdated cash register, the low profile Flip iPad Stand can turn any iPad into a completely secure POS solution. Once the tablet is placed into the Flip iPad enclosure, it is fully functional for the user yet safe from being damaged or stolen. This tablet sharing movement accommodates the needs of the customers and clients while adding the protection, security and flexibility owners need to keep their business running smoothly.
The Maclocks Flip iPad stand is now available to pre-order for the special price of $189.95 at Maclocks.com.