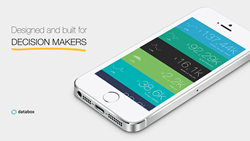 As businesses become increasingly data-driven, Databox's mobile platform is becoming an indispensable tool for decision makers.
Boston, MA (PRWEB) June 13, 2014
Databox, the fastest growing Mobile Business Intelligence platform, announced today that their award-winning mobile application can now deliver real-time business insights to all enterprise decision makers. This announcement comes in the wake of signing several prominent Fortune 500 companies, including one of the biggest online retailers in the country, Staples.
As businesses become increasingly data-driven, Databox's mobile platform is becoming an indispensable tool for decision makers company-wide. Accessing key business metrics and real-time insights is now as easy as pulling up your mobile device and swiping to refresh the data in Databox.
The majority of business intelligence suites on the market today are complex, expensive tools built primarily for analysts. And the days of sending data in Excel spreadsheets over e-mail are past. Executives and decision makers in today's modern enterprise require access to fresh, smart, understandable, and instantly actionable data and insights – whether in the office or on the go.
Enterprise Mobility and Bring Your Own Device (BYOD) are driving the new shift in the enterprise. Databox saw an opportunity to provide access to important business metrics, insights and actionable data on the one device that decision makers have present at all times – their smartphones.
"There is a huge need for data access and insights for mobile workers and we're committed to delivering the best solution on the market. We have re-invented the way businesses use their (big) data by delivering their decision makers access the most important business insights, no matter where the source data sits," said Davorin Gabrovec, CEO of Databox.
The platform itself can be set up with no IT involvement, and mobile dashboards can be created in a matter of minutes. Databox's clean and meticulously designed interface makes the data not only accessible but also understandable at a glance -- perfect for decision makers across the company. The enterprise version offers additional security and collaboration features, along with advanced data analysis and insight capabilities such as scorecards, alerts and notifications.
Staples Inc., who was among the first Fortune 500 companies to take advantage of the enterprise features company-wide, said, "Databox enabled our executives real-time access to data and KPIs that are easily translated into actionable insights in a simple and visually appealing way. Databox took analytics and decision making to the next level at Staples."
Databox also added a prominent name in retail to their advisory board, Bill Wood. Bill brings 20 years of retail experience with well-known companies such as Petsmart, Dollar General, Bass Pro Shops and Brookstone--including CIO roles at the last two. His experience and deep retail expertise further strengthens Databox's position as the leader in the Enterprise Mobility space.
For more information on Databox, visit http://databox.com.