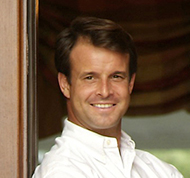 'It's an incredible opportunity to work with such a talented and motivated team,' said Mark Hughes. 'We are coming off a great year and building an even better one. To help lead that is something that I look forward to everyday.'
Irvine, CA (PRWEB) May 20, 2014
After three decades of working in the highest levels in residential real estate as an agent, broker, and published author and thought leader, Mark Hughes has been promoted to Senior Vice-President, Operations for First Team Real Estate, Southern California's largest and most trusted independent real estate broker.
"It's an incredible opportunity to work with such a talented and motivated team," said Mark Hughes. "We are coming off a great year and building an even better one. To help lead that is something that I look forward to everyday."
Joining First Team Real Estate as a regional manager for the Greater Los Angeles area in early 2013, Mark has helped agents achieve an unprecedented level of market share in the four county region of Southern California.
"Strategically brilliant is the phrase that comes to mind when I think about Mark Hughes," said Chris Pollinger, Senior Vice-President, Sales. "I have always been impressed with Mark's ability to create a corporate culture of focused teamwork."
In his position as Senior Vice-President, Operations, Mr. Hughes day-to-day responsibilities will include leading First Team Real Estate's groundbreaking e-commerce, marketing, and training programs, in addition to helping lead end-to-end transaction administration, relocation services, client services, and agent relations and recruiting.
Previous to his work with First Team Real Estate, Mr. Hughes has completed more than $500 million in real estate transactions on both the West and East Coast. His thought leadership in the industry has led to the publication of two books, including Branding The Real Estate Agent. He received his BA from the University of Virginia in 1988.
ABOUT FIRST TEAM REAL ESTATE
Growing from a single office in Huntington Beach, CA in 1976, First Team Real Estate is now Southern California's largest and most trusted private real estate agency with offices across California. In 2011, 2012, and 2013 First Team was recognized as Best Real Estate Company by the annual Orange County Register survey of 100,000 Southern California households. We can be reached at (888) 236-1943.
ABOUT FIRSTTEAM.COM
Firstteam.com is the official website of First Team Real Estate, and is used daily by thousands of unique users who trust its property and market analysis data which is updated four times daily on average. According to independent rating organizations of Internet usage and reach, firstteam.com is the most used brokerage property web site serving Southern California. For more information, go to http://ow.ly/lZH0G.