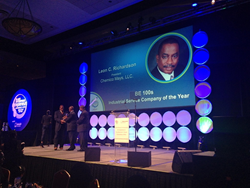 Southfield, MI (PRWEB) May 19, 2014
ChemicoMays, LLC (Chemico), a leading Michigan-based chemical management company, today announced it has been named Black Enterprise's (BE) Industrial Service Company of the Year. The award ceremony was held on Friday, May 16 at the Hyatt Regency Columbus in Columbus, Ohio, as part of the magazine's 19th Annual Entrepreneurs Conference + Expo.
"We are extremely grateful to be recognized by Black Enterprise as its Industrial Service Company of the Year," said Leon C. Richardson, president and CEO of ChemicoMays. "As a company, we strive to provide our customers with the highest level of quality and service. This recognition is a true testament to our employees' unwavering dedication to the principles on which this company was built. We're continuing to do exactly what we set out to do 25 years ago – bring value to our clients, the lives of our employees and the community."
In addition to this recent award, Chemico has been named to "BE 100s: The Nation's Largest Black Businesses" list every year since 2010 in the "Industrial/Service" category. In just three years, the chemical management firm has soared from its ranking of 100 to number 56, growing its revenue by more than $30 million in the last year alone. An active member of the BE community, Richardson also spoke on the panel "Winning Corporate Clients" on May 15, day two of the conference. Richardson, alongside other prominent business leaders, provided insight into how entrepreneurs can better "navigate the supply chain to corporate giants, beat the competition and fill lucrative contracts profitably."
"ChemicoMays has shown impressive growth while maintaining a great reputation within the chemical management industry," said Alan Hughes, multimedia editorial director at Black Enterprise. "Leon Richardson's vision and business savvy ensure that the company will continue to grow and prosper. It is that vision and growth that is so deserving of recognition, which is why we are pleased to have presented the Industrial Service Company of the Year award to ChemicoMays."
Each year, the Entrepreneurs Conference + Expo features the BE 100s Celebration and Awards Dinner, which not only recognizes the nation's most distinguished entrepreneurs, but celebrates African-American business achievement and community involvement. Additional honors presented at the ceremony included the BE Community Empowerment Award, given to civil rights activist Rev. Jesse Jackson, and the BE Trailblazer Award presented to Don Jackson, chairman and CEO of Central City Production. The event featured an impressive speaker lineup including, but not limited to, Julia Wilson, CEO of Wilson Global Communications; Frantz Tiffeau, director of supplier diversity, Nationwide Insurance; Paul Judge, CEO of Judge Ventures and co-founder of Opportunity Ventures; and Miriam Brewer, director of education & diversity, International Franchise Association; as well as other prominent figures in the African-American business community.
About ChemicoMays, LLC
ChemicoMays specializes in providing an integrated solution for the chemical lifecycle – from sourcing and procurement, to lean hands-on management, through environmentally conscious disposal. Founded in 1989, the organization has continued to experience positive growth year over year since its inception.
ChemicoMays serves customers across a variety of industries including automotive, aerospace, biotech and pharmaceuticals. The company operates more than 50 sites throughout the U.S., Canada and Mexico. ChemicoMays' past and current customers include General Motors, Fiat-Chrysler, Ford, Eaton, Toyota, Boeing, Amgen, Delphi and Honeywell. For more information, visit http://www.chemicomays.com.
About Black Enterprise
Black Enterprise, your ultimate source to build Wealth for Life, is the premier business, investing, and wealth-building resource for African Americans. Since 1970, BE has provided essential business information and advice to professionals, corporate executives, entrepreneurs, and decision makers. Every month, Black Enterprise magazine provides 4 million readers with information on entrepreneurship, careers, and financial management. A multimedia company, BE also produces television programming, business and lifestyle events, Web content, and digital media. Visit http://www.blackenterprise.com for more information.