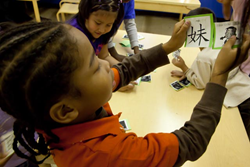 Global Language Project shows disadvantaged children how to become global citizens by providing them foreign culture immersion and foreign language skills.
New York, New York (PRWEB) May 21, 2014
Global Language Project has the honor of receiving a First Book grant award from the prestigious organization's Brooklyn Advisory Board. The First Book organization provides new books to children in need, addressing one of the most important factors affecting literacy – access to books. It is the mission of the Global Language Project (GLP) to provide disadvantaged elementary public school children with language lessons free of charge, so they may have the skills that are needed to compete at a higher level academically and in a global workforce, and the First Book grant creates the opportunity for GLP students to expand their language learning through reading, over the summer months. The $2,890 First Book grant will allow Global Language Project to touch 104 young students' lives.
"The incredible work that First Book carries out to transform and expand the minds of disadvantaged children through children books, is much like the mission of Global Language Project, to show disadvantaged children how to become global citizens by providing them with foreign culture immersion and foreign language skills," said Angela Jackson, founder of Global Language Project.
"There is much synergy in the First Book mission and our Global Language Project mission, so we are especially excited to receive this grant from a likeminded organization, who also strives to introduce poor children to the world at large and its endless opportunities in store for them."
Global Language Project was allowed to choose the school where they wanted to use the grant and selected Citizens of the World Charter School (CWCS) in Brooklyn. The grant will provide students with five Spanish language books to read over the summer, and additional book resources for Spanish language learning.
"Reading is especially critical to children's increase in literacy, and the summer months, when students have more time to devote to focused reading, provides the perfect opportunity for literacy growth," said Meredith Cronk, Principal of the Citizens of the World School. "This award will be a game changer for success in our children, as they prepare themselves for the coming school year, during the summer months."
On May 20th, GLP will host an inaugural book giveaway event after the CWCS Spring Concert, where it is expected that all 104 students who are to receive books, will attend. There will be remarks from GLP about the new partnership and new Spanish language immersion program at CWCS, set to launch in the coming Fall 2014-2015 school year. Remarks will also be given by school principal, Meredith Cronk, and Marcos Espino, the instructor who will teach Spanish to the immersion program participants, four times per week.
"We are delighted to partner with Global Language Project to support their innovative language programs for children in need," said Olesya Alferenko, Chair of First Book-Brooklyn Advisory Board. "Books are windows into other worlds and they will not only advance the children's language skills, but also captivate, delight and empower."
GLP was selected for the grant award by demonstrating that at least 70 percent of participants come from low-income households and that books would be incorporated into its program activities.
About Global Language Project
Global Language Project is a registered 501(c)(3) organization in New York City, to support its mission to empower low-income students to succeed in our globalized works and workforce through foreign language learning. Currently, Global Language Project teaches Arabic, French, Mandarin, and Spanish to children enrolled in the acclaimed program. http://www.globallanguageproject.org
About First Book
First Book provides new books to children in need addressing one of the most important factors affecting literacy – access to books. An innovative leader in social enterprise, First Book has distributed more than 100 million free and low cost books in thousands of communities. First Book has offices in the U.S. and Canada. http://www.firstbook.org