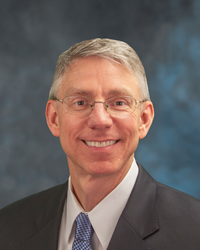 Scott Clay's background in hospital administration, health system strategic planning, and healthcare management consulting will complement this rapidly expanding service area
Knoxville, TN (PRWEB) May 21, 2014
Scott Clay has joined the nationally ranked healthcare consulting firm, PYA, as a Consulting Principal.
Clay specializes in strategic and financial planning – helping healthcare clients identify strategic options that fit unique circumstances, assessing the financial impact of options, and facilitating discussions to reach an agreement on key priorities.
With PYA, Clay will lead projects in strategy and service line development, medical staff development, and financial forecasting, including feasibility studies.
"Scott brings extensive healthcare experience to our Firm's healthcare advisory services team," said PYA President Ed Pershing. "His background in hospital administration, health system strategic planning, and healthcare management consulting will further complement this rapidly expanding service area."
Clay's experience includes service as a Director with Navigant, the Senior Principal of Health Innovation with Noblis, and as the Director of Strategic Planning at Wellstar Health System.
"PYA is well-respected in the healthcare industry," said Clay, who will work out of the Firm's Atlanta location. "It is a pleasure to join a firm dedicated to excellence in client support."
Clay is an established Thought Leader, having contributed to publications and media that include Health Leaders Media Online, Hospitals & Health Networks Online, USA Today, CBS Radio, and Healthcare Informatics, among others. He has been a guest speaker for healthcare organizations that include the Healthcare Financial Management Association and American College of Healthcare Executives.
PYA is ranked by "Modern Healthcare" as the nation's 10th largest privately held healthcare consulting firm. Serving health systems, hospitals, physicians, physician groups and many other healthcare providers for over 30 years, PYA offers unique guidance to healthcare providers facing complex issues. PYA's services include audit, accounting, coding, compliance, strategic planning, mergers & acquisitions, and valuation services. PYA proudly serves clients in 48 states from offices in Atlanta, Kansas City, Knoxville, Nashville, and Tampa Bay.