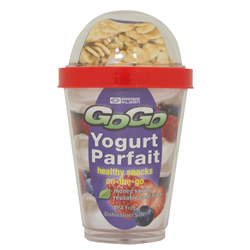 (PRWEB) May 21, 2014
Range Kleen's Go Go "On the Go" Food Storage line was first added in 1993, making food storage simple and convenient for food and drinks, snacks, salads, parfaits, muffins and cupcakes. The newest addition to this line is the Yogurt Parfait. The Yogurt Parfait is a reusable 13 ounce container that keeps your favorite toppings separate in a top compartment to ensure they will always be crunchy when ready to serve. The Yogurt Parfait container has a clear base for easy parfait creation and accented with a red rim. This reusable container is BPA Free and Dishwasher-Safe. This is the perfect solution for the on-the-go lifestyle for lunch or for a snack. Take advantage of the Do It Yourself snack or a gifting option especially for a great teacher.
For other Go Go "On the Go" items such as the insulated Food Jars, insulated Beverage Bottles, Salad, Fruit and Veggie containers go to http://www.rangekleen.com for more information.
About Range Kleen Mfg., Inc.
Range Kleen Manufacturing, Inc. is a Lima, OH based company manufacturing household products sold to major retail chains globally and has been taking care of the customer (TCOTC) since 1971. Its product divisions include: Original Equipment Manufacturing Quality (OEM) replacement drip pans for ranges & stoves; Non-stick Metal Bakeware; Kitchen Decorative products specializing in exclusive licensed designs; Storage, Organization, insulated food and beverage bottles and household cleaning supplies. Range Kleen introduced their own line of cookware- Stainless Steel and Enameled Cast Iron as well as pot racks in 2007. Effective December 21, 2009, Range Kleen Manufacturing was pleased to announce the partnership with Berndes Cookware USA and has taken the lead of all sales, marketing and shipping of Berndes Cookware USA from their International Headquarters in Lima, Ohio.