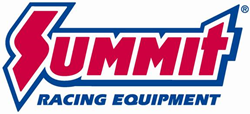 Tallmadge, OH (PRWEB) May 22, 2014
GM and Dodge left a lot on the performance table when they built their diesel-powered trucks. Fortunately, Summit Racing has upgrades from Pacific Performance Engineering that will increase horsepower and torque for towing, improve driveability during long hauls, and increase component life. Here are some of the Pacific Performance products now available in our warehouse:
DUAL FUELER KITS FOR GM DURAMAX AND DODGE CUMMINS
The single CP3 fuel injection pump used on GM Duramax and Dodge Cummins diesels reaches its capacity well before peak engine power is produced. The Dual Fueler Kit supplements the factory pump with a belt-driven Bosch CP3 pump to deliver the precise amount of fuel your engine's ECU requests. The ECU will automatically recognize both pumps and continue to function as normal. Both pumps work together, each delivering half the total volume of fuel required. If one pump fails, the kit's electronic controller will automatically switch all fuel delivery responsibilities to the remaining pump.
The Dual Fueler Kit will not produce more fuel pressure than the engine ECU requests; it will only increase fuel volume as needed to maintain ECU requested fuel pressure. For racing applications, the kit provides enough fuel flow to maintain fuel pressure up to 26,000+ psi. That can feed race engines making up to 2,000-plus horsepower.
The Dual Fueler Kits include:

New BOSCH CP3 pump assembly with heavy duty mounting hardware
Billet aluminum eight-rib drive pulley
Microprocessor-controlled module
High and low pressure fuel lines
Fuel rail adapters and fittings
XCELERATOR TUNERS FOR GM DURAMAX
Summit Racing offers three versions of the Xcelerator Tuner:
The Standard Xcelerator provides better throttle response and shifting characteristics for stock engines with upgrades like cold air intakes and cat- or turbo-back exhaust systems. The Xcelerator has five power tuning levels to add from 40 to 225 horsepower and up to 335 lbs.-ft. of torque (depending upon vehicle model). The Xcelerator also does speedometer corrections for larger tires, adjusts the speed limiter, and adjusts for new axle gear ratios. You can also get real-time data for engine diagnostics and read and clear DTCs.
The Economy Xcelerator tuners provide three horsepower settings (40, 90, and 120) and can increase torque by up to 200 lbs.-ft. over stock. It has the same adjustability and data features as the Standard Xcelerator tuner.
The Hot +2 ET Xcelerator is just for drag racing or off-road racing engine swaps. The Hot +2 ET provides up to ten levels of additional horsepower and torque—up to 425 horsepower and 620 lbs.-ft. of torque (this varies by application). The tuner also allows the user to remove transmission torque limits. That eliminates defueling for full power and aggressive upshifts to help improve elapsed times. The Hot +2 ET allows use of racing diesel fuels, increases rev limit from 3,200 to 5,000 rpm, eliminates the need for an OEM body control module, and more.
EXHAUST MANIFOLDS FOR GM DURAMAX
These exhaust manifolds will help lower exhaust gas temperatures and accelerate turbo spool-up for better throttle response and low rpm power. Manufactured from high silicon moly cast iron, the manifolds were designed by Honeywell/Garrett and Pacific Performance to maximize exhaust flow. The included high-flow up-pipe bellows are made from 11 gauge, .120 inch wall stainless steel, and are internally sleeved—good luck trying to blow them out. The exhaust manifolds are drilled and tapped for a 1/8 inch NPT EGT sensor.
Summit Racing also has Pacific Performance Engineering heavy-duty transmission pans and axle covers, V-band clamps and exhaust flanges for making leak-free exhaust system connections, T4 turbocharger installation kits, and performance transmission kits for GM Allison automatics.
See all Pacific Performance engineering products at Summit Racing.
Summit Racing Equipment
http://www.SummitRacing.com
1-800-230-3030