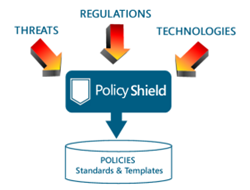 Information security policies are not truly effective unless they are read and understood by every member of the organization.
Houston, Texas (PRWEB) May 21, 2014
Information Shield, the leading provider of pre-written Information Security Policies, today announced that it has entered into a strategic partnership with Hitec Labs, developer of the leading policy management solution PolicyHub. As part of the agreement, Information Shield's security policy content library will be integrated within the PolicyHub solution – giving users a unique, end-to-end solution for policy development, management and deployment.
"Information security policies are not truly effective unless they are read and understood by every member of the organization," said David Lineman, President of Information Shield. "PolicyHub provides an extremely robust solution for getting the right policies to the right people. Combing our leading security policy library with the automation of PolicyHub provides a complete policy management solution for clients."
The requirement to distribute and track acknowledgement of written information security policies is a key requirement of all data protection laws and regulatory frameworks such as HIPAA/HiTECH, GLBA, FISMA, PCI-DSS and ISO 27002. PolicyHub simplifies this challenging requirement as it impacts hundreds or thousands of users.
Mike Adams, Senior Vice President, Hitec North America comments: "We are delighted to welcome Information Shield as a new Strategic Business Partner. Information Shield's expert Policy & Control offerings complement Hitec's PolicyHub in multiple vertical market sectors. This relationship will add to the value of our advanced Policy & Procedure Management Solution and provide Information Shield with a critical component to add to its already outstanding Policy content library."
About Information Shield
Information Shield provides time-saving products and services to help build, update and maintain information security policies. Information Shield's Common Policy Library (CPL) contains over 2000 pre-written information security policies covering over all aspects of information security including: Access Control, Authentication, Physical Security, Personnel Security, Network Security, Disaster Recovery, Incident Response and many others. By relying on quality templates, organizations can leverage the experience of hundreds of different organizations.
Based in Houston, Texas, Information Shield has over 10,000 satisfied customers in 60 countries. Information Shield's library of information security policy and data privacy policies has been in continuous development for 18 years. For more information, visit http://www.informationshield.com, email sales(at)informationshield(dot)com or call 1.888.641.0500.
About Hitec
Hitec develops, implements and supports software solutions that assist organizations to reduce cost, improve efficiency, reduce risk and ensure compliance with regulations. We have been assisting customers to address business and operational challenges for over 20 years.
Our solutions span Enterprise Content Management (ECM) through to Governance Risk & Compliance (GRC):

ECM - to capture and index scanned documents, email messages, spreadsheets and computer generated output amongst other enterprise content, into a single digital repository for secure retention and re-use; and
GRC - to enable Customers to identify, assess and prioritize risks, and to apply and manage controls; and to manage the life cycle of Corporate Policies & Procedures, ensuring that all stakeholders receive, read, understand and agree to abide by them.