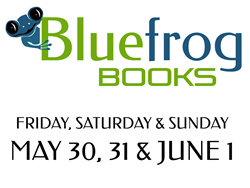 (PRWEB) May 23, 2014
After opening in February during the worst winter in a long time, Blue Frog Books welcomes the warmer weather with a Grand Opening Celebration. Local artists and authors will be highlighted as an ongoing commitment to give local art a voice to the community.
Starting Friday, May 30th at 5:00 pm - Charles David Clasman & David Anthony, the authors of "Heroes A 2 Z", "Knightscares," & "Mystery Underground" series of chapter books. They will be on hand to talk and joke and with a little egging on, juggle.
Also on Friday at 6-8 pm- Customer Appreciation Get Together. Blue Frog Books would like to show their gratitude for their customers continued confidence and commitment to their store since opening in early February. Light conversation, light beverages, and light snacks will be provided.
On Saturday, May 31st at 12:00 pm, start off the day with Denise Brennan-Nelson and her new book, "Teach Me To Love." A Blue Frog Exclusive Author Event. Denise has many titles and is a Howell favorite. She will read and have fun with the children and do an activity afterwards.
Saturday, May 31st at 12:30 pm - During the same time the kids are having fun with Denise, the adults can meet author, Amy Joan Lamoreaux, with her book "Oooh La Lamoreaux, How I Scratched My Francestral Itch." Amy had a yearning to walk in the steps of the past and a great story came out of her journey. She will team up afterward with Denise for a Q&A session offering perspective from two different ends of the publishing spectrum. Established publishers vs. self publishing.
Saturday, May 31st at 5:00 pm listen to Adventures in Music play a few keyboard numbers. Several students from in and around Howell will entertain the audience with their musical skills. Show your support for our local young artists.
Sunday, June 1st at 12:00 pm - Jennifer Taylor-Haughey with her Children's Book - "A Corgi's Tale" - An adorable book by a local author about girls who try to hide the true identity of the corgi only to learn a lesson at the end. Jennifer will read to the children and have an activity afterward.
Sunday, June 1 at 3:00 pm - Christine Panyard, PhD, with her book, "Sistine Chapel - A Biblical Tour." As featured on sale at the Sistine Chapel, this Hartland author will present the book and take questions afterward. A fascinating book filled with beautifully printed photos commissioned directly from the Vatican.