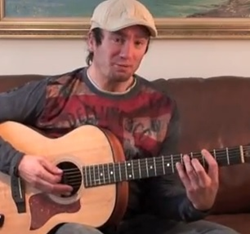 (PRWEB) May 19, 2014
A thirteenth chord is the stacking of six (major or minor) thirds, the last being above the 11th of an eleventh chord. Thus a thirteenth chord is a tertian (built from thirds) chord containing the interval of a thirteenth, and is an extended chord if it includes the ninth and/or the eleventh.
"If you are playing in a band and you have a extra guitar player, you have a bass player or a keyboard player, it's going to be a little too much if everybody plays the same chord on top of each other," says Darville, "as a guitar player you can pick out certain notes within the chord and you will still be playing the 13th chord." Jacques demonstrates this concept using an A13 chord and for the example he removes the Root Note and starts on the 7th which is G. Jacques demonstrates this chord voicing as follows; 5th fret of the 4th string with first finger, 6th fret of the 3rd string with 2nd finger, 7th fret of the 2nd string with 3rd finger and 7th fret of the first string with 3rd finger. "It might sound a little incomplete since the root note is missing," says Darville, "but just add in the root and you will hear the difference." Guitar TAB's are available for this easy blues guitar lesson at BluesGuitar.com.
Jacques Darville
Jacques Darville is Danish born American who specializes in both acoustic and electric blues. Jacques has taught guitar and music for over 16 years. He is a graduate of Oakland University in Detroit Michigan where he earned his B.A. in music/performing arts. Jacques currently resides in Copenhagen Denmark where he teaches guitar to students of all ages, and actively plays with his band, Darville Duo. In addition to having a great deal of recording experience, Jacques has also toured in the USA, Denmark, Holland, Austria and the Philippines, both as a solo artist and with different bands.
About BluesGuitar.com
BluesGuitar.com is the leader in modern blues guitar instruction. It's packed with resources including articles, video lessons, and the best videos in the business for the beginner to the advanced guitar student taught by the best instructors out there.