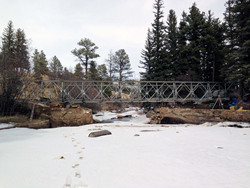 Mabey bridge installations are like life-sized erector sets.
Estes Park, CO (PRWEB) June 04, 2014
The September 2013 Colorado floods damaged hundreds of roads and bridges that served as direct routes to homes and businesses in the Estes Park area. Glacier Lodge Resort lost the main access to their business when the 40-foot wooden bridge spanning Big Thompson River and connecting to Highway 66 was severely damaged and became inoperable. The erosion to the riverbanks compromised the stability and safety of the main access bridge to the 20-acre cowboy western guest ranch. Resort owner David Ranglos rented Mabey Inc.'s steel panel bridge to allow the resort to open by spring.
The original 40-foot bridge was replaced with a longer, single-lane 70-foot Mabey Universal Bridge to compensate for the loss of stable ground along the river. Mabey steel bridges have high fatigue life, are easy to transport, and are quickly assembled on site. The resort's new bridge was assembled and installed in only three days with a small crew and will be in place for at least one year.
A Colorado news station, The Denver Channel 7, covered the Colorado flooding and included Mabey's bridge animation movie in their broadcast to show how the bridging system is assembled, referring to it as "a life-sized erector set." The animation illustrates how quickly Mabey bridges can be assembled and installed with minimal crews and equipment. See movie here: https://www.youtube.com/watch?v=p5uaj90VTzQ.
For more information on this project, please see our case study, http://www.mabey.com/mabey-provides-bridge-glacier-lodge/.
###
For over 25 years, Mabey Inc. has been a leader in engineered solutions for construction equipment rentals, including structural and excavation shoring, bridging, and temporary roadways. Headquartered near Baltimore, MD, Mabey Inc. has 20 depot locations across the country. In addition to construction equipment, Mabey Inc. provides professional engineering services, on-site technical advisors and hands-on safety training.