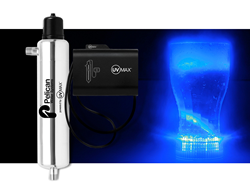 People who choose premium, choose Pelican!
Deland, Florida (PRWEB) May 20, 2014
Pelican Water, the market leader in salt-free water softening systems, is pleased to announce the launch of a new UV disinfection system, in response to a spike in boil water alerts across the United States in 2014.
A UV disinfection system is a highly desirable add-on to a Pelican Water industry leading water purification system, eliminating most risks of water contamination before it reaches your faucet. The risk of water contamination has risen in recent months, as an increase in local boil alerts has swept the nation. Pelican Water's new UV systems safeguard drinking water from the tap at all times, and negate any need to boil drinking water.
A boil alert is issued by a locality when pressure is lost in the water line, raising the possibility of a toxic foreign substance entering the system. For tap water to be safe for drinking after a boil alert has been issued, the water must be boiled at or near 212 degrees Fahrenheit for at least one minute.
Even in absence of a boil alert, all water can potentially be contaminated before it reaches your faucet. By adding a proven UV system to your water purification system, this potential is avoided. Also, UV technology often is more effective than chemicals in destroying certain types of waterborne contaminants.
For example, Pelican Water's popular UV Max Disinfection System treats the water for your whole home, eliminating an estimated 99.99% of bacteria and viruses. This includes chlorine-resistant cysts that are not tested for in most water tests (such as Cryptosporidium and Giardia).
With the addition of a UV Disinfection System to your Pelican Water Whole House Water Filter, you can have 100% confidence in the water your family drinks.
Pelican Water is offering the complete line of high quality disinfection systems, including all parts and accessories. The new UV disinfection systems are for sale at Pelicanwater.com. The new Pelican UV systems can be added to existing Pelican filtration systems and other brands water filter systems.
About Pelican Water
PelicanWater.com is the official, factory-direct retail website for Pelican Water Systems, providing professional knowledge and leading technologies in whole house water filtration, UV bacteria disinfection systems, as well as salt-free water softening and conditioning systems. Pelican Water products use cutting edge technology and enable customers to go green by eliminating wasteful and harmful salt brine discharge that is polluting our scarce fresh water supply. For over two decades, Pelican Water has been the global market leader in salt-free water softening systems, and our mission remains to be the world's premier water solutions company through the development of premium, innovative, and environmentally responsible products and our unsurpassed commitment to integrity, passion, and exceptional customer service.
For more information about Pelican Water Systems, visit PelicanWater.com.