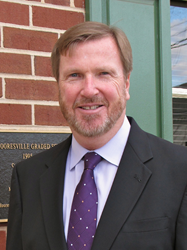 (PRWEB) May 20, 2014
Mooresville Graded School District Superintendent Dr. Mark A. Edwards today was named the recipient of the 2014 Public School Forum of North Carolina Jay Robinson Education Leadership Award. The award was established by the Public School Forum Board of Directors in 2000 to recognize exemplary leaders who have made outstanding contributions to public education. The award may be given to anyone who has displayed innovative, creative, effective leadership for public education in North Carolina. Edwards will be honored at a Celebration of Leadership reception and luncheon on Monday, June 9, 2014 in Raleigh. SAS is the presenting sponsor of this year's award.
"Mark Edwards certainly exemplifies all the characteristics we look for in Jay Robinson Education Leadership Award recipients -- dedication, leadership and courage," said Gene Arnold, former NC State Representative and Chairman of the Public School Forum of North Carolina Board. "The results he has already achieved in Mooresville are nothing short of remarkable, demonstrating record increases in test scores, graduation rates and college readiness – across all racial and socio-economic lines – by empowering teachers and principals, setting high expectations for all students and fully incorporating digital learning into the classroom."
The award is named in honor of the late Dr. Jay Robinson, one of our state's most distinguished education leaders. His career spanned 50 years, beginning as a math teacher and basketball and football coach in Cabarrus County, becoming a school principal and later superintendent of schools in first Cabarrus and then Charlotte-Mecklenburg school systems. He served as vice president of public affairs and special projects for the University of North Carolina system and chaired the State Board of Education. He was also the first president of the Public School Forum and served as an Emeritus Member of the Board until his death in April 2000.
"The selection committee had several outstanding nominees and finalists this year, but Mark Edwards rose to the top with his passion and leadership in public education combined with a track record of success that can provide a roadmap for the state as we transition into a digital learning model for all our schools," said Bruce Beasley, chairman of the Public School Forum's Jay Robinson Education Leadership Award Committee.
One of Mark Edwards's endorsers for the award was Tom Campbell, Executive Producer and Moderator of NC SPIN, North Carolina's only statewide radio and television talk show: "Mark Edwards had the vision, the courage and the commitment to want better for the education of children under his care. Mark was willing to attempt great things by being different and was able to enlist the teachers in his system in following him. His mantra, "Every Child, Every Day," is not just another snappy slogan but his imperative. He is convicted every child can learn and that his task in life is to help them achieve as much education as they desire."
Dr. Edwards was named Superintendent of the Mooresville Graded School District (MGSD) in 2007. His vision for preparing students for life in the 21st century included a laptop for every child in grades 4 through 12 for their 24/7 use and laptops at school for the children in grades K-3. He understood that in order to sustain the changes he proposed and for the technology to be used effectively, the district also needed to institute comprehensive professional development opportunities for its teachers.
Since 2007, MGSD's number of students testing proficient or advanced on state end-of-grade tests has increased by 16 percentage points from 73 percent to 89 percent, second best in the state of North Carolina despite being ranked 100th out of 115 districts in funding. Its 4-year cohort graduation rate has improved by 13 percentage points, third in the state, with 90 percent of seniors graduating. The college-going rate has increased from 74 percent of MGSD graduates continuing on to a two or four year college to 88 percent. The total scholarships received by college-going seniors have increased by about 300 percent, from $935,370 to $2,685,583. MGSD is now closing any remaining gaps; it met 100 percent of its 57 AMO targets under No Child Left Behind, and five of its eight schools are designated as North Carolina Honor Schools of Excellence with the other three being named Schools of Distinction.
Dr. Edwards has received numerous honors and awards including being named the 2013 North Carolina Superintendent of the Year, 2013 National Superintendent of the Year and 2013 Common Sense Media Educator of the Year. He was named the 2001 Virginia State Superintendent of the Year, a 2002 Tech Savvy Superintendent by eSchool News, and was awarded the 2003 Harold McGraw Prize in Education. In addition to these honors, MGSD has been featured in the New York Times, Education Week and PBS as the de facto national model for digital innovation. He has been published in numerous journals and this year published his own book Every Child, Every Day: A Digital Conversion Model for Student Achievement.
Edwards holds an Ed.D. in education from Vanderbilt University, a M.Ed. in administration and supervision from Tennessee Technical University, and a B.S. in education from the University of Tennessee. Before coming to Mooresville, Edwards served as dean for the University of Northern Alabama's School of Education, superintendent of Henrico Public Schools (VA) and superintendent of Danville Public Schools (VA).
The Jay Robinson Leadership Awards Selection Committee was chaired by Bruce Beasley, retired president, Wilson Chamber of Commerce. The members of the committee included Debra Horton, Executive Director, North Carolina PTA; Dr. Patrick Miller, Superintendent, Greene County Schools; Lloyd Thrower, retired educator; Richard Urquhart III, COO of Investors Management Company; Dr. Dudley Flood, 2009 Jay Robinson Leadership Award Recipient, and Education Consultant; Dr. Michael Priddy, Chair-elect of the Public School Forum Board and senior consultant with New Hope Technology Foundation; Virginia Parker, Senior Vice President of Resource Development and Strategic Partnerships, Triangle United Way; and Gene Arnold, Public School Forum Board Chairman.
About the Public School Forum of North Carolina
For nearly 30 years, the Public School Forum of North Carolina has worked to shape world-class public schools that inspire and support all children and drive a vibrant North Carolina economy through research, policy work, advocacy, and continuing education for educators and policymakers. Our practice areas are teaching and school leadership; expanded learning through programs after-school and beyond the classroom; educational achievement and innovation; and school finance. We also lead the Education Policy Institute that focuses on developing passionate education leaders, and on promoting sound education policy through continuous learning and issues forums for elected officials and candidates for state and local offices that affect education policy. For more information, visit http://www.ncforum.org/