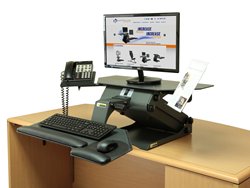 The partnership will benefit each firm's customers in unique ways, including giving customers the "chance to buy the company's products from stores in their local communities.
Burnsville, MN (PRWEB) May 20, 2014
HealthPostures, a primary ergonomics developer, has agreed to enter into a partnership with Ingram Micro, the leader in the technology fulfillment industry. The partnering is being facilitated by Ergoguys, a HealthPostures product dealer. Improved product fulfillment, distribution and access to more advanced technology are key advantages that the partnership is expected to bring HealthPostures.
Scott Scartozzi of Ergoguys is leading the facilitation of the partnering. He decided to facilitate the joint effort because Ergoguys has "been selling HealthPostures products for years, just not through this source of marketing. Their products sell very well for us, so we have decided to take them to distribution through Ingram Micro so customers have better access to their products." Scott continued, "HealthPostures products are very well made. The products are designed to help people, and not only people with disabilities. HealthPostures products also help people who have minor back injuries or muscle pain."
After the two companies begin their business relationship, Scott expects them to complement each other because, "Ingram Micro is the world's largest IT distributor, meaning that they stock all the products for many technology retailers. All the big stores buy from them. Major retailers won't deal with manufacturers unless they deal with a distribution firm like Ingram Micro. This type of partnership makes it easier for retailers to sell their products to other companies as well as to individual consumers."
Regarding each company's customers, Scott said that he expects the partnership to benefit each firm's customers in unique ways, including giving customers the "chance to buy the company's products from stores in their local communities. Customers can also buy HealthPostures products directly online through different .com firms," according to Scott. Furthermore, "The products ship directly from Ingram Micro to the customer."
Key products sold by HealthPostures include workforce sit/stand solutions, items such as the bestselling TaskMate Executive 6100, the TaskMate EZ 6400 and the Stance Move EXT 5050. These and other products developed by the company help facilitate mobility. The products also allow workers with physical disabilities or limitations to experience more comfort while at work or at home.
As an expansive IT distribution company, Ingram Micro offers a respected bridge between its business clients and their customers. Among the company's major clients are vendors and resellers, of which HealthPostures is a leader in its market. One of the driving forces behind HealthPostures decision to partner with Ingram Micro is the fact that Ingram Micro has a commitment to innovation and operating its business with integrity.
About HealthPostures
HealthPostures LLC builds ergonomic equipment that helps people to stay healthy while they work. The firm has been designing and manufacturing ergonomic sit stand solutions since 1996. Part of the company's mission is to "strive to provide quality products that will help transform your sedentary life so you have a healthy way to work." Office solutions sit stand products Health Postures designs and manufactures include dual monitor sit stand work stations, adjustable mouse stands, dual monitor arm accessories, Stance move seat extensions, industrial surface Taskmates and Stance Move chairs.
Contact:
HealthPostures LLC
14310 Ewing Avenue South, Suite 100
Burnsville, MN 55306
800-277-1841
https://healthpostures.com
About Ergoguys LLC
Headquartered in Arizona, Ergoguys is a retailer that specializes in distributing and selling computer products. The company also sells office furniture, children's furniture and accessories. Because the firm keeps its overhead low, it regularly passes costs savings on to its customers.
Contact:
Ergoguys LLC
5110 E. Andora Drive
Scottsdale, AZ 85254
602-354-4190
http://store.ergoguys.com
About Ingram Micro
Founded in 1979 by former teachers, Geza Czige and Lorraine, Ingram Micro had its initial public offering in 1983. In 2012, the international IT firm posted annual revenues of $37.8 billion. The company's guiding mission is to, "focus on enhancing the success of its business partners, associates and investors while embracing its values of innovation, accountability, integrity, teamwork and respect, learning and social responsibility."
Contact:
Ingram Micro
1600 E. St. Andrew Place
Santa Ana, CA
714-566-1000
http://www.ingrammicro.com