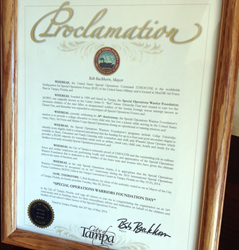 Tampa, FL (PRWEB) May 20, 2014
In recognition of the role the Special Operations Warrior Foundation plays in supporting our nation's elite military personnel and their families, Tampa Mayor Bob Buckhorn has designated May 20, 2014, as Special Operations Warrior Foundation Day in the city.
Tampa is home not only to the SOWF, but also to the U.S. Special Operations Command at MacDill AFB; and the annual Special Operations Forces Industry Conference (SOFIC) hosted by the National Defense Industrial Association. This year's conference is May 20-22.
SOFIC brings together people from the military, government, academia and industry to network and discuss current and future challenges the Special Operations Forces (SOF) community faces around the world.
In addition to presentations and panels, SOFIC includes an international special operations exercise and a technology exhibition.
SOFIC vendor Glock is a longtime corporate supporter of the Special Operations Warrior Foundation, which provides college scholarships to children of fallen U.S. Special Operations personnel; and financial support to seriously-wounded operators and their families.
For the ninth year, Glock will present a $100,000 check to the SOWF tomorrow morning at their booth in the SOFIC exhibition hall, bringing their total donations to $900,000.