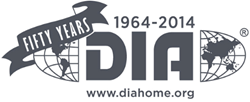 "Educating patient advocates about how to inform and foster collaboration within global arenas is a vital step in getting the right therapies to those who need them."
Washington, D.C. (PRWEB) May 19, 2014
DIA Europe, Middle East & Africa will play a major role in developing educational material to support patient advocates in Europe, thanks to a five-year initiative supported by the European Commission and the European Federation of Pharmaceutical Industries and Associations. The initiative will help patients become champions for driving drug development as well as advisers in the regulatory and research arenas. Jytte Lyngvig, director of DIA Europe, Middle East & Africa, will discuss the initiative at "Patient Voice in Decision Making: How Are Regulators Making This Work?" during the DIA 2014 50th Annual Meeting on June 18 at 3:30 p.m. at the San Diego Convention Center.
Starting in September 2014, EUPATI will offer a comprehensive in-person and online training course, featuring more than 114 topics, for 100 selected patient advocates. A toolkit will be available online in seven languages in 2015 for the larger audience.
"This training program is the first of its kind in Europe, furthering DIA's worldwide commitment to raising the patient voice to drive development and regulation," Lyngvig said. "Educating patient advocates about how to inform and foster collaboration within global arenas is a vital step in getting the right therapies to those who need them."
Chaired by Eric Gascho, assistant vice president of government affairs for the National Health Council, the panel will feature a discussion about the challenges regulators face when trying to bring the patient's voice into the decision-making process, including hurdles in identifying individuals with particular diseases. The forum will also feature Isabelle Moulon, head of medical information for the European Medicines Agency, and James Valentine, an associate with Hyman, Phelps & McNamara, P.C., who specializes in health policy.
ABOUT DIA: DIA is the global connector in the life sciences product development process. Our association of more than 18,000 members builds productive relationships by bringing together regulators, innovators and influencers to exchange knowledge and collaborate in a neutral setting. DIA's network creates unparalleled opportunities for the exchange of knowledge and has the interdisciplinary experience to prepare for future developments. DIA is an independent, nonprofit organization with its global center in Washington, D.C., USA, and regional offices covering North and South America (Horsham, Pa., USA); Europe, North Africa and the Middle East (Basel, Switzerland); and Japan (Tokyo), India (Mumbai) and China (Beijing). For more information, visit http://www.diahome.org.
ABOUT DIA's 2014 50th ANNUAL MEETING: Celebrate the Past – Invent the Future is the largest multidisciplinary event that brings together a community of life sciences professionals at all levels and across all disciplines involved in the discovery, development and life cycle management of medical products. The meeting aims to foster innovation that will lead to the development of safe and effective medical products and therapies for patients. For more information, visit http://www.diahome.org/dia2014.