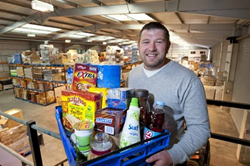 It's a common misconception that a best before date is a red light to dispose of the product
Sheffield, England (PRWEB UK) 19 May 2014
In response to recent news that the EU are preparing to draw up a plan to ban 'best before' dates from food packaging, Approved Food Founder Dan Cluderay believes that the key to significantly reducing wastage on food isn't by removing the labels from packaging, but to make it simpler, by educating consumers on the true meaning of 'best before' dates.
Some EU ministers claim that 'best before' labelling is misleading and makes people throw away good food over safety concerns. The truth is that a 'best before date' is the manufacturers estimate as to when the premium quality of that product may start to deteriorate.
EU law on food labelling requires all items to have a 'use-by date' for those that would subsequently be dangerous to consume, such as raw meat or dairy products.
However, best-before dates are put on products such as packets, tins and canned goods with a long shelf life. The quality of these items may be reduced but still be perfectly edible.
Approved Food is the largest online retailer of short-dated and residual stock food and drinks. They have over 250,000 customers in the UK and Europe and have sold 9.6 million items of short-date food and drink last year. They believe education to be the reason for high wastage numbers, and have recognised that there are consumers happy to purchase products past the 'best before' date.
Dan Cluderay states, "It's a common misconception that a best before date is a red light to dispose of the product, when in fact it is purely an indicator that the product may not be at its optimum quality after that date. The current labelling system on products is, for a lot of consumers, confusing and so rather than scrapping the labels all together, educating the consumer and having two very clear labels, Best Before and Use By, for when the product is at its best and when the product will in fact be no longer safe to consume is surely a better simpler way to communicate this.'
Dan went on to say, "Approved Food is one of the world's first online retailer of short-date food and drink. Over the six years we have been trading, we have found that consumers are becoming more savvy when it comes to purchasing short-date products, but there is still a long way to go. Having clear and consistent labelling is the best way for consumers to understand what can or shouldn't be consumed and have confidence in the goods they are buying"
Dan Cluderay is available for comment on the proposed changes in legislation.
Please contact Dan Cluderay for further details on 07881621603 or dan(at)approvedfood(dot)co(dot)uk
Editors notes
Approved Food is the largest online retailer of short dated and residual stock food and drinks. We want to be more than just an online retailer, we want to be as synonymous to online grocery as Google is to search and Facebook is to social networking.
The majority of our stock is short-dated or past its best before date we are able to buy in large quantities and pass considerable savings on to our customers.
Starting off as market traders in Hull and Doncaster, Dan Cluderay and his wife Nichola progressed into food wholesale, supplying other market traders. From wholesale they moved into a number of retail outlets that supplied both the public and wholesale trade and finally Approved Food was born in 2009.