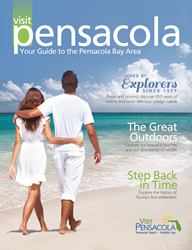 Pensacola, Florida (PRWEB) May 20, 2014
Pensacola has made it onto ConventionSouth magazine's 2014 Top 10 list of the "South's Five-Star Destinations for Military & Public Service Groups."
The cities on the list were chosen for their all-American patriotic spirit, appreciation discounts, patriotic festivals and attractions, and local public-service organizations such as veteran legions and law enforcement fraternal orders.
"Places like the National Naval Aviation Museum, Veteran's Memorial Park, our historic district and a welcoming community make the Pensacola Bay Area a perfect reunion location for our military hero's" said Larry Orvis, Visit Pensacola's Operations Manager. Mr. Orvis, who works closely with the military reunion planners, is a retired command sergeant major in the United States Army.
"Pensacola has always been a harmony of local citizens, local businesses, and the military in the perfect setting. It would be hard to beat our beaches, our weather, and the cohesive society, which we all enjoy in Pensacola. If you are Military stationed in Pensacola, if you live in Pensacola, if you work in Pensacola, or if you are just passing through….you are blessed," adds Lieutenant General Duane D. Thiessen, USMC (Ret) President and CEO of the National Aviation Museum Foundation
Based in Gulf Shores, Ala., ConventionSouth is the leading meeting planning resource and is circulated to more than 18,000 meeting professionals located across the country that book meetings held within the South.
For more information about the Pensacola Bay Area or to request a 2014 Visitor Guide, call Visit Pensacola at (800) 874-1234 or (850) 434-1234. You can also view the guide online at VisitPensacola.com.
About Visit Pensacola
Visit Pensacola leads the effort of economic development through tourism in Escambia County. Comprised of over 200 member businesses, Visit Pensacola's mission is to position the Pensacola Bay Area as a premier year-round travel destination through tourism marketing, communications, meetings and conventions, reunions and group tour initiatives.