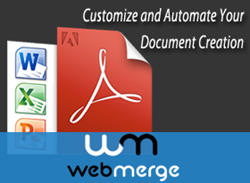 With Webmerge we have been able to quickly create and send out full-fledged and robust proposals to our clients.
Los Angeles, CA (PRWEB) May 21, 2014
WebMerge today announced it has launched on Salesforce1 AppExchange, empowering businesses to automate their document assembly in the cloud. Customers can dynamically generate PDF, Word, Excel, or PowerPoint documents on the fly with a click of a button.
Built on the Salesforce1 Customer Platform, the new social, mobile and cloud customer platform built to transform sales, service and marketing apps, WebMerge is currently available on the AppExchange at http://www.appexchange.com.
"This partnership with salesforce.com will be instrumental in helping our customers manage their businesses more efficiently – cutting out countless hours that are spent in contract and document preparation," said Jeremy Clarke, Founder of WebMerge.
Connect in a Whole New Way with Social, Mobile and Connected Cloud Technologies
WebMerge is a cloud enabled service that integrates document assembly with many other cloud services. From delivering documents to cloud storage apps to sending documents off for e-signature, or using more advance integrations, WebMerge provides an easy way to generate documents in the cloud.
"With Webmerge we have been able to quickly create and send out full-fledged and robust proposals to our clients." said customer Kyle Corsaro, Beyond Payroll. "I would recommend this to anyone that is looking to quickly and easy build proposals out of the data they have."
With WebMerge's integration with Salesforce1, customers will be able to easily create documents from their mobile devices with ease. WebMerge is removing pain points for sales teams across the world and changing the way deals are closed.
"Companies are looking to transform the way they connect with customers, partners and employees to thrive in the today's connected world," said Ron Huddleston, senior vice president, ISV & Channel, salesforce.com. "By leveraging the power of the Salesforce1 Customer Platform, WebMerge provides customers with the proven social, mobile and connected cloud technologies to accelerate business success."
Product Key Features
With WebMerge, customers can create intelligent, dynamic, and professional documents in a matter of seconds. Contracts, proposals, quotes, and many more types of documents can be created on the fly. With the central setup in WebMerge, there is no need to worry about different versions of documents floating around – reducing inconsistencies, errors, and ultimately saving businesses valuable time and money.
###
Additional Resources

About WebMerge
WebMerge automates your document creation (PDF, Word, Excel, PowerPoint) in the cloud so you can get back to business. Wasting time creating the same documents over and over again is a thing of the past. You'll never copy and paste information into a template again!
With various document types you can create professional looking documents that will fit right in with your business. Whether you need a secure PDF, a dynamically generated document, or the flexibility of a Word/Excel/PowerPoint, WebMerge has you covered.
About the Salesforce1 AppExchange
The Salesforce1 AppExchange is the world's leading business apps marketplace. With more than 2,000 partner apps and 2 million customer installs it is the most comprehensive source of social and mobile cloud apps for business. The Salesforce1 Customer Platform is the new social, mobile and cloud customer platform for building next generation apps, powering Salesforce CRM, and more than 3 million custom apps built by customers and partners. Apps built on the Salesforce1 Platform can be easily distributed and marketed through AppExchange.
Salesforce, Salesforce1, AppExchange and others are among the trademarks of salesforce.com, inc.
Press Contact:
Jeremy Clarke
WebMerge
http://www.webmerge.me/