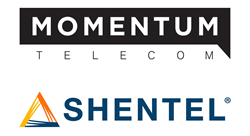 Momentum is honored to play a part in Shentel's growth plan and to support their subscribers with our comprehensive cloud-based software and solutions.
Birmingham, AL (PRWEB) May 22, 2014
Momentum Telecom, a leading hosted VoIP, broadband and unified communications provider, today announced that Shenandoah Telecommunications Company ("Shentel") has renewed its partnership in a multi-year contract for broadband management services.
Shentel is a top telecommunications and broadband provider in the Mid-Atlantic Region and serves more than 50,000 high-speed data customers throughout Virginia, West Virginia and Maryland. The Shentel brand has established itself by delivering high-speed Internet, TV and phone service to rural areas in the region.
"Momentum is excited to have such a notable and important customer sign on to stay with us long term. We are honored to play a part in the company's growth plan and to support their subscribers with our comprehensive cloud-based software and solutions," said Tara Kelley, Vice President of Customer Experience at Momentum Telecom.
Prior to the recent merger of Momentum and IBBS, Shentel signed on as an IBBS data customer in 2010 and has now opted to follow through with a multi-year renewal under the Momentum Telecom name. Tom Whitaker, Vice President of Cable at Shentel, said that together, the companies have solidified their position as a true market leader and that their provisioning, diagnostic and reporting tools stand out as the industry's best.
"We have been pleased with the Broadband Explorer (BBX) product and are excited about the roadmap of what is to come now that Momentum and IBBS have joined forces," said Whitaker. "Shentel is committed to providing advanced big-city services to small towns in our footprint. Partnering with a technology leader like Momentum Telecom is integral to maintaining the high quality of service that Shentel customers need and expect."
About Momentum Telecom
Momentum Telecom, a leading provider of hosted VoIP, broadband management and unified communications services, offers smart, customizable cloud solutions to direct businesses and more than 400 partners nationwide. An industry leader in reliability, Momentum Telecom delivers superior quality products backed by a geo-redundant network with 100% uptime and best-in-business customer service. Headquartered in Birmingham, AL, Momentum Telecom has additional offices in Kennesaw, GA, Las Vegas, NV, Lexington, KY, Atlanta, GA, Cartersville, GA, Vancouver, Canada and Belarus. Learn more at http://www.momentumtelecom.com.
About Shentel
Shenandoah Telecommunications Company (http://www.shentel.com) is a holding company that provides a broad range of telecommunications services through its operating subsidiaries. The Company is traded on the NASDAQ Global Select Market under the symbol "SHEN." The Company's operating subsidiaries provide local and long distance telephone, Internet and data services, cable television, wireless voice and data services, alarm monitoring, and telecommunications equipment, along with many other associated solutions in the mid-Atlantic United States. Shentel made the Forbes Top 100 List of Most Trustworthy Companies in 2013 and 2014.