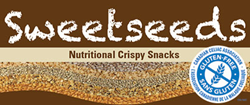 'Sweetseeds Corporation's participation in the GFCP program supports Canadians' right to safe food, and hence, their participation in the Gluten-Free Certification Program,' states Paul Valder, Presiden
(PRWEB) May 20, 2014
The Gluten-Free Certification Program (GFCP) in partnership with the Canadian Celiac Association is proud to announce Sweetseeds all natural crispy snacks has met all GFCP assurance requirements to use the GFCP trademark on their Sweetseeds product line.
A new and delicious snack food made from ancient grains – chia, flax and quinoa have been assembled into a line of tasty treats that serve up the benefits of being gluten-free, dairy-free, nut and peanut-free and a good source of fibre. The organically sweetened snacks are also an excellent source of magnesium and 14 other essential nutrients. There are no GMO's.
"By displaying the GFCP trademark endorsed by the CCA, the Sweetseeds brand provides consumers with a trusted and easily identifiable source of gluten-free snack food products. The recent interest and growing demand for gluten-free products across all product categories and the desire to continuously innovate fueled our desire to obtain this quality certification," says Peter Wojczyk, President of Sweetseeds Corporation.
Some of the delicious, new and exciting gluten-free snack offerings from the company which will also carry the GFCP trademark include: Salba Chia, Golden Flax and Quinoa Sweetseeds. Check out the Sweetseeds website for product information and their nutrition story http://www.sweetseeds.ca.
"The CCA advocates on behalf of the 2,300,000 Canadians suffering from celiac disease and gluten sensitivity who are often challenged by the uncertainty of identifying gluten-free products which are essential to their well-being." "Sweetseeds Corporation's participation in the GFCP program supports Canadians' right to safe food, and hence, their participation in the Gluten-Free Certification Program, as the company also aims to meet those special needs," states Paul Valder, President of the GFCP.
################ - 30 - ###############
About the Gluten-Free Certification Program (GFCP)
The GFCP is a voluntary certification program designed to help brand owners to differentiate their gluten-free products from the increasing clutter of gluten-free claims, by displaying the GFCP trademark. It is based on a robust third-party audit certification process at the manufacturing facility which verifies the manufacturer's ability to regularly meet the stringent GFCP requirements when managing gluten as part of their food safety programs.  
The GFCP is endorsed by North Americas' leading celiac organizations, the Canadian Celiac Association in Canada and the NFCA in the United States. Consumers can shop with confidence by selecting those safe, reliable and gluten-free products displaying the GFCP trademark. http://www.glutenfreecert.com
About the Canadian Celiac Association (CCA) 
The Canadian Celiac Association is the national voice for people who are adversely affected by gluten, and is dedicated to improving diagnosis and quality of life. Based in Mississauga, Ontario with 28 Chapters across the country, its mission includes advocacy, education, research and community support. http://www.celiac.ca
About Sweetseeds Corporation
Sweetseeds Corporation is a privately owned and financed organization based in Toronto, Ontario. They produce Sweetseeds in a dedicated gluten-free facility in Canada. Inspired by the growing opportunity for healthy, on the go snack foods, Sweetseeds were created to be: gluten-free, dairy-free and nut and peanut-free. They are also great tasting and nutritious, providing 15 essential nutrients plus a very high source of fibre. http://www.sweetseeds.ca
 For news media information, please contact:
Tricia Ryan, VP Marketing
Allergen Control Group Inc.
Tricia(at)allergencontrolgroup(dot)ca
1-866-817-0952 ext. 230
416-999-2043 (cell)