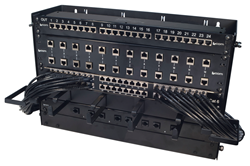 'This product is simply the neatest data center cabling solution I've seen,' said Nick Nash, VP of Information Technology.
North Andover, MA (PRWEB) June 05, 2014
L-com, Inc., a designer and manufacturer of wired and wireless connectivity products, announced today that they will be offering 45 degree angled Cat5e and Cat6 Ethernet cables in both shielded and non-shielded versions. These cables compliment L-com's existing 90 degree Ethernet cables, adding a professional look with efficiently organized cable exits.
The new Ethernet cables will be particularly beneficial for IT departments that utilize high density patching of Ethernet cables. This patent-pending design reduces cable stress and provides patch cables that have a clean appearance without restricting access. L-com's exclusive 45 degree design efficiently transitions network cabling to the rack sides. These angled, low profile cables also make it easy to horizontally stack connectors. L-com's commitment to cable performance means that IT professionals can be confident their network cables are providing optimum performance.
"This product is simply the neatest data center cabling solution I've seen," said Nick Nash, VP of Information Technology. "When used with the high density Ethernet ports that are common on switching gear and patch panels, these cables will be easy to latch or unlatch. This will help to eliminate human error when removing plugs from ports. I've decided to deploy these cables in all L-com data centers."
An additional advantage of these cables is that they are available in a variety of colors: blue, black, gray and red. This allows IT professionals to distinguish between different cable functions and avoid the use of difficult-to-read labels. The 45 degree cables are available in five cable length variations: 1, 3, 5, 7 and 10 feet. Both left and right orientations are available and all stock options are left or right angled to a standard straight RJ45 connector.
L-com's 45 degree angle patch cables feature a specialized channel separator and load bar to achieve true Cat5e and Cat6 performance at an affordable price.
For more information about this release, please contact:
Peter McNeil, Product Marketing Manager
978-682-6936 x1450, mailto:pmcneil(at)l-com(dot)com
About L-com Global Connectivity
L-com Global Connectivity, a global leader in the manufacture of wired and wireless connectivity products, offers a wide range of solutions and unrivaled customer service for the electronics and data communications industries. The company's product portfolio includes cable assemblies, connectors, adapters, computer networking components, and custom products, as well as their HyperLink® brand of wireless products which include antennas, RF amplifiers, coaxial lightning and surge protectors, and NEMA rated enclosures. L-com's HyperLink® wireless products are designed for WiFi, WiMAX, SCADA, 802.11a/b/g/n/ac, RFID and Bluetooth applications. In addition to HyperLink® , L-com's other brands include MilesTek®, specialists in Military/Aeronautics connectivity solutions and Aiconics®, a leading manufacturer of electrical connector products. Trusted for over 30 years, L-com, which is headquartered in North Andover, MA, is ISO 9001: 2008 certified and many of its products are UL® recognized. For more information, please visit: http://www.L-com.com/.