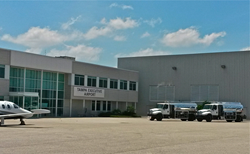 "We are excited to add Tampa Executive to the Volo Aviation LLC network," states Brian Ciambra of Volo Aviation. "This location has huge potential."
Stratford, CT (PRWEB) May 21, 2014
Volo Aviation LLC announced today that it has been awarded the contract to manage the FBO at the Tampa Executive Airport (KVDF) in Tampa, FL. Investment group Skyport Holdings LLC recently purchased the FBO, formerly known as Leading Edge Aviation Services, and retained Volo Aviation as business managers for their new acquisition. Located in Hillsborough County, KVDF is conveniently located just 15 minutes northeast of the central Tampa business district, immediately adjacent to the Florida State Fairgrounds and the Hard Rock Hotel and Casino, near the intersections of Interstates 4 and 75.
"We are excited to add Tampa Executive to the Volo Aviation network," states Brian Ciambra, Volo Aviation's Senior Vice President for FBO Operations. "We see a very strong local demand for services in the Tampa area. VDF was losing business to surrounding airports in the area due to uncompetitive pricing, which meant lost revenue for the FBO and other airport –based commercial operations. Volo Aviation will quickly introduce aggressive pricing schedules at Tampa Executive that hopefully will serve to re-engage our tenant base as well attract traffic and business back to the airport."
Volo Aviation controls 30-plus acres of property at VDF, including 40,000 sq ft of hangar, 75 T-hangars, 32 shade ports, 110 tie-downs and approximately 10,000 sq ft of terminal and office space. The FBO terminal building was constructed in 2004, and the modern facility offers many amenities to clients, including a comfortable, spacious lobby and a large conference room. The terminal also includes several offices that are available for rent. Hertz rental cars will be available on site, and Volo Aviation VDF is proud to partner with Ascent, part of the World Fuel Services Network, for supply of fuel and related customer incentive programs.
"We see a great opportunity at VDF," says Ciambra. "This location has huge potential, and we are eager to deliver top-notch services to the aviation community here." The location will be branded as Volo Aviation, according to Ciambra, "so customers can expect a new look and feel in addition to Volo Aviation's exceptional customer service delivery and attention to detail."
About Volo Aviation LLC
Headquartered in Stratford, CT, with additional locations in FL, GA, NY and PA, Volo Aviation LLC is a highly integrated aviation services firm, offering clients aircraft management and charter, aircraft maintenance, and Fixed Base Operations (FBO) management and consulting. For more information, visit their website at http://www.voloaviation.aero.