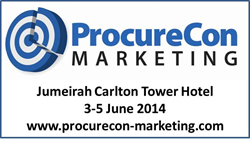 Frank Treanor, MD of ProProcure says, 'We are hugely proud of our specialist experience and deep expertise in global marketing procurement and fulfilment.'
London (PRWEB UK) 20 May 2014
This annual conference, to be held at the Jumeirah Carlton Hotel, London 3rd – 5th June 2014, is the largest dedicated procurement event for marketing services with more than 150 senior marketing and procurement professionals participating.
In addition to being a main sponsor at the event, ProProcure are sharing the speaker podium with their client SAB Miller, on the 3rd June. The presentation is entitled 'Breaking The Rules Of Marketing Procurement' and will be delivered jointly by Felipe Medina of SAB Miller and Jonathan Posner of ProProcure. Felipe will present a case study showing how the typical situation found in most marketing procurement functions can be effectively challenged – to deliver a leading practice global procurement and order fulfilment solution.
ProProcure has been providing technology and service-based solutions to global brands to simplify complex marketing fulfilment since 2000; developing a platform that is adapted perfectly to the needs of a busy marketing function. As a cloud based solution, the platform is accessible globally and integrates fully with other corporate marketing, operations, finance and procurement solutions to ensure cross-business integration. The platform delivers a comprehensive Source-to-Pay solution and is already used by many large global brands, including SAB Miller, Pernod Ricard, Unilever and Beam Global.
Frank Treanor, MD of ProProcure says, "We are hugely proud of our specialist experience and deep expertise in global marketing procurement and fulfilment. We have put all this experience into our platform in order to simplify marketing fulfilment for global brands and meet the needs of both marketing and procurement."
ProProcure can be found on Booth 1 throughout ProcureCon Marketing 2014. A number of thought leadership white papers will be available on the booth, as well as samples of SAB Miller's iconic Peroni beer throughout the event, and a daily prize draw.