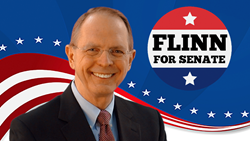 There is nothing more vital to our country's well-being than well-being of our citizens.
Memphis, TN (PRWEB) May 20, 2014
The Republican Party as a whole has voted to stop ObamaCare since the very conversation of its creation. The "repeal and replace" movement has been a hot topic in national news for the past few years, urging the termination of the new law.. Though the Republican Party pushes to repeal ObamaCare, they have not come to a consensus regarding its replacement.
Now, more than ever, the Republican Party needs a plan. Dr. George Flinn from Memphis, Tennesssee is running for United States Senate to give our nation a plan. In a recent interview, Flinn stated, "I have spent the majority of my life in the medical field, serving the people of my community. I want nothing more than to continue that service during our time of need." Flinn expressed the dire need for healthcare reform, referring to his Patient Centered Health Plan for answers.
"This plan," he stated, "is a system that will provide Americans with insurance apart from employment and regardless of pre-existing conditions." Portability, being one of his seven key principles in the Patient Centered Health Plan, is said to eliminate the problems of employer-based coverage, along with the problem of pre-existing conditions. Flinn's plan is also said to put the insurance sector of this economy back into the free market system, lowering premiums for all.
Dr. George Flinn plans to run his campaign on the sole platform of healthcare reform. Flinn stated "There is nothing more vital to our country's well-being than well-being of our citizens." Even when asked questions about immigration, education and other major issues, Flinn always referred back to healthcare. His website, http://www.patientcenteredhealthplan.com, contains the details of his plan to replace ObamaCare, along with interview testimonials of real healthcare stories, how his plan will save the United States money and how ObamaCare affects you.
For additional information, please visit http://www.FlinnForSenate.com.