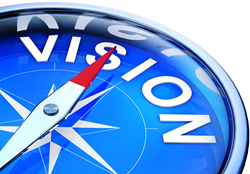 Internet marketing firm GetUWired's vision was created to guide the company for the next 100 years.
(PRWEB) May 20, 2014
Internet marketing firm GetUWired recently gathered its entire staff together to create a vision statement for the company. Reflecting GetUWired's family-like culture, every single employee was involved in the process of crafting the vision that will serve as the "guiding light" for the company's next 100 years.
What began as a 4-hour meeting had to be extended into 10 hours of discussion and fine tuning over the course of two weeks. GetUWired employees were so enthusiastic and invested in the process that consensus could not be reached in just four hours.
This is the finalized vision of GetUWired:
Purpose: To help small businesses succeed
GetUWired has always been on the forefront of helping small businesses achieve their dreams. As a small business itself, GetUWired understands the pain and joy involved in growing a small business. GetUWired CEO and Founder Lee Goff built this business from scratch, starting in a bedroom. So he and the other GetUWired team members are committed to lending a helping hand to other small businesses who are still growing.
Mission: Empower 500 small businesses concurrently by 2018
Since its inception in 2003, GetUWired has served nearly 2,000 satisfied clients. Right now, GetUWired typically services between 80 and 100 clients at a time. To meet its goal of concurrently serving 500 clients, GetUWired plans to expand its staff from 25 members to 75 to 90 members over the next three years.
Core Values
EMPOWER: We empower and respect small businesses.
As a small business itself, GetUWired understands how much heart and soul goes into running a small business. We respect the dreams of small business owners, and we enthusiastically help them get wherever they want to go.
RESPECT: We honor the role and respect the position.
Every GetUWired employee is an integral part of the team. Each employee honors his or her own role by completing every task with distinction. And each employee also honors the positions of the other members of the GetUWired team. There are no small fish at GetUWired. Each employee is an integral link in the chain.
EXCELLENCE: We take pride and ownership in our work.
GetUWired employees become intimately invested in the work they do for clients, and they produce work they can be proud of each and every time.
CHALLENGE: We define and conquer every challenge.
No problem is too big or too small. No goal is too lofty or outrageous. GetUWired is in the business of making small business owners' dreams come true.
TRIBE: We _______ together.
Part of what makes GetUWired employees so inspired (and helps them do such inspired work) is the tribe-like atmosphere of the company. Every employee has an open-door policy, all the way up to CEO Lee Goff and VP of Operations Melissa Allen. Every member of the team is always helpful and available to every other member, because the team succeeds as a whole.
About GetUWired
GetUWired is an Internet marketing agency located in scenic Dahlonega, Ga. Providing services such as website design and development, automated marketing, SEO, marketing strategy, and much more, GetUWired helps small businesses around the globe reach their maximum potential. To learn more, visit http://www.GetUWired.us or call 877-236-9094.