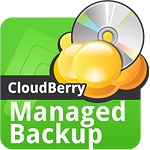 Newport Beach, California (PRWEB) May 28, 2014
CloudBerry Lab, a cloud backup vendor today announces an upgrade to its Managed Backup service. The service is designed for MSPs and VARs who can use their own storage accounts at Amazon S3, Amazon Glacier or Windows Azure to provide branded cloud backup to customers.
With this upgrade service providers can remotely manage backup client options as well as configure and run backup and restore plans for their clients from a centralized control panel. Enhanced remote management in CloudBerry Managed Backup allows creating and modifying backup and restore plans such as file system backup, SQL Server backup and Exchange backup on remote servers. Service providers can specify backup source, create filters for specific types of files and folders, configure backup schedule as well as specify compression and encryption options.
All the configurations are made through the web interface and don't require onsite support. As soon as a backup or restore plan is created and saved, it immediately propagated to the target server. Also, service providers can remotely run and stop backup and restore jobs for their customers.
About CloudBerry Managed Backup:
Cloud services generate strong demand from the customers worldwide. MSPs and VARs should consider this opportunity to meet customer needs and generate additional revenue stream. CloudBerry Managed Backup for MSP, VAR or IT service companies provides cost-effective white-label cloud backup service integrated with Amazon S3, Glacier and Microsoft Azure cloud platforms.
Built for MSPs, CloudBerry Managed Backup allows to:

Realize significant savings on cloud storage by using AWS and Azure services;
Eliminate management complexity for remote customers on day-to-day basis;
Reinforce your brand with complete design customization of the backup software.
Availability:
Service Providers can sign up for CloudBerry Managed Backup service free of charge and get 2 GB of free cloud storage to evaluate the service.
About CloudBerry Lab:
CloudBerry Lab was established in 2008 by a group of experienced IT professionals with the mission to help organizations in adopting cloud computing technologies by closing the gap between cloud vendor propositions and consumer needs through development of innovative low-costs solutions. CloudBerry Lab is an Amazon Web Services Advanced Technology Partner.