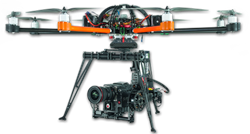 VidMuze believes that their tutorial series is an essential investment for anyone desiring to take their aerial cinematography, to new heights.
Asheville, NC (PRWEB) May 21, 2014
An exciting new training series combines the science of flying unmanned aircraft with the art of filmmaking. VidMuze, is the production company behind the world's first Multi-Rotor Tutorial Series for Filmmakers. The series consists of 24 highly detailed video lessons and more than 4.5 hours of content. Each video provides step-by-step instructions and demos to help aspiring aerial filmmakers achieve professional results. The tutorial series is mobile-friendly so that users can access the materials from anywhere in the world.
In early March, 2014 Judge Patrick Geraghty of the National Transportation Safety Board heard the appeal of the $10,000 FAA fine against Raphael Pirker (Administrator v. Raphael Pirker, NTSB Docket CP-217), who was fined after filming from an aerial drone for use in a promotional video for the University of Virginia. Judge Geraghty ruled that there was "no enforceable FAA rule" or regulation that applied to a UAS (unmanned aerial system) such as the one Pirker was flying. This ruling validated what many in the aerial UAS industry have been saying for years, that commercial use of UAS' for filmmaking purposes was completely within the letter of the law.
From this judge's ruling, this now allows more opportunity for aerial cinematography to "take off." "The price continues to drop every day, making multi-rotors more affordable for filmmakers," says Mike Gentilini, Jr., founder and owner of VidMuze. Successful aerial cinematography requires a balance of science and art. Piloting a drone is the science, but that is merely half of the equation. The art is being able to compose and capture the stunning images that only these aircraft are able to reach.
"The technology is exciting, and often people start flying without understanding the safety rules and regulations." In response, the tutorial series also explains how to use safe flying techniques and redundant backup systems to minimize the risks of crashes. "Safety is a top priority in the aerial cinema industry," says Gentilini.
The video series explains the various multi-rotor types from quadcopters to hexacopters to octocopters, the heavy lifters. "Most people start out with a quadcopter, but more advanced users will want to upgrade to the larger ships because of increased stability and lifting heavier cinema cameras," says Gentilini.
"Most RC pilots know very little about cinematography. Likewise, most filmmakers know little about flying drones," says James Suttles, gimbal operator and cinematographer for VidMuze. VidMuze's production team has over 50 years of film experience and a decade of RC knowledge and skill. They've been training filmmakers how to combine those skills into an amazing new art form.
Multi-Rotor Tutorial Series for Filmmakers is now available online at http:// http://www.vidmuze.com/product/multi-rotor-tutorial-series-filmmakers.
VidMuze is now actively seeking resellers to join its worldwide affiliates program. Resellers and distributors are encouraged to contact VidMuze at, http://www.vidmuze.com/affiliates-for-multi-rotor-tutorial-series.
About VidMuze:
VidMuze is a team of experienced and dedicated filmmakers who provide world-class film, visual effects, and aerial cinematography production services. VidMuze produced the world's first 4K Damage Pack visual effects library and continues to produce state of the art products for the film industry. VidMuze's dedication to film and media continues to drive its innovation and contributions to the industry. VidMuze is headquartered in Asheville, NC.