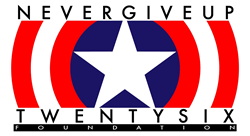 Haymarket, VA (PRWEB) May 23, 2014
The 2014 NeverGiveUp26 Foundation T-shirts sales will run from June 1st through June 16th.
T-shirt sales will be done again through the Booster program that was used last year. Please stay tuned to NeverGiveUp26's email releases for the link on June 1st. Youth Sizes will be available this year for the little loved ones. There is no better way to inspire the youth of the area then to support Packy's life, unbelievable energy and ability to Never Give Up.
In dedication to Packy, the new 2014 NeverGiveUp26 Logo was inspired by his favorite super hero. NeverGiveUp26 Foundation welcomes everyone from all walks of life to support the Foundation and Packy for his amazing life journey of Never Giving Up.
In addition, this year the foundation will be collecting donations for hats designed by Packy's brother, Sean Purcell, please visit NeverGiveUp26 Foundation's website for donation details.