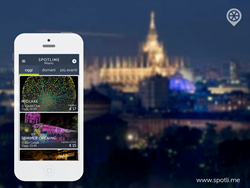 Spotlime is the first self-learning app that enlightens the events you love.
Milan, Italy (PRWEB) May 21, 2014
Spotlime, the app that allows users to discover the best last-minute events in Milan, announced today that it has raised 200,000 euro in seed funding. Spotlime's CEO Francesco Rieppi said he plans to use the funding to strengthen its presence in Milan and to expand in new cities in Europe. Launched on Christmas 2013 in Milan, the app already generates revenues, as a result of a commission from event organizers for each purchase or reservation.
Spotlime is the first Italian self-learning app in the event sector: analysing the interaction of the users with the events listed, the app can automatically find which events would be the most interesting for each of them. Spotlime, in fact, presents a selection of the 10 best daily events, personalized according to what users prefer. The app also allows users to book or reserve tickets for concerts, clubs and other nightlife events in two taps and get access to exclusive benefits (free cocktails, VIP list access, reserved seats).
The app has grown constantly in popularity in Milan and it now covers most of the top venues in the city. What makes Spotlime really innovative can be summarized in one word - personalization.
"Unlike other startups, Spotlime selects a limited number of daily events, in order to provide users with the best options only. Our proprietary algorithm then directly personalizes the events displayed. Simplicity and quality are the features which differentiate us from many other apps: our target users have limited time available and they prefer a personalized selection of events to a long and anonymous list", said Francesco De Liva, co-founder and CTO of Spotlime.
Spotlime is available for free from the App Store and Google Play.