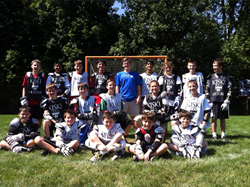 Saltsburg, PA (PRWEB) June 16, 2014
The Kiski School facilitates a variety of athletic camps and educational opportunities throughout the summer. Kiski's 350-acre campus offers many adventures and learning opportunities. Sports camps will use the new Carroll "Beano" Cook Outdoor Athletic Center, a state-of-the art complex including the Donald H. Jones Athletic Stadium and the Orr Track. The new turf is lined for football, soccer, and lacrosse and Kiski's new world-class track is a premier track that will not be found on any private or boarding school campus in the country. Kiski extends the "Kiski experience" by providing quality programs for all camp or class participants.
The Overnight Lacrosse Camp, beginning Monday, June 23 through Friday, June 27, 2014, for boys ages 10–14, cost is $450. The overnight camp includes breakfast, lunch, dinner, boarding accommodations, and tee shirt. Registration for both day and overnight camps can be done online at http://www.kiski.org/Page/About-Kiski/Summer-Programs.
Lacrosse Clinics will be held July 9, 16, and 23, 2014 –Wednesday Nights, Boys ages 10–14, and $10 per clinic.
Head Coach Chris Spahn is in his ninth year at The Kiski School. Coach Spahn has more than 27 years of experience playing and coaching lacrosse. He was a four year starter and senior captain of his Elmira College Lacrosse team. After graduating college, Coach Spahn stayed involved in the sport, playing on local Rhode Island and Boston club teams and serving as an assistant coach for the Division I Providence College Friars. Coach Spahn spent his four years prior to coming to Kiski teaching English and directing the lacrosse program at The Winchendon School, which is a member of the competitive New England Prep School Athletic Conference's second division. In just four years with Coach Spahn as head coach, the Winchendon program made tremendous strides, winning its first New England Championship in school history in 2004. That spring, US Lacrosse rewarded Coach Spahn for his tremendous efforts, naming him Eastern New England Coach of the Year and Head Coach of the east squad in the annual Division II New England Prep All Star game. Coach Spahn was also named the 2008 WPSLA Coach of the Year for his work on Kiski's sideline during their championship season. Coach Spahn will be assisted by Rob Howard who is in his second year at Kiski. Coach Howard played at Skidmore College and earned his Master's degree from DePaul University.
Coach Spahn works closely with the College Counseling Office and college coaches to place Kiski's lacrosse players at the best suitable college or university. Kiski's recent graduates have gone on to play at The U.S. Naval Academy, High Point University, Canisius, Queens' University, Elmira College, Alfred University, Kenyon College, Elizabethtown, Western New England College and Rochester Institute of Technolgy.
The Kiski School is a national leader in educating boys. Founded in 1888, Kiski offers an exceptional boarding or day school experience to families in search of a highly personalized, challenging, and safe high school education for their sons. Located just 30 miles east of Pittsburgh on 350 beautiful acres, Kiski is a special place where boys engage their minds, focusing on schoolwork, sports and just being boys. Our students receive a classic liberal arts education that mirrors the curricula of the nation's best universities, using innovative technology and hands-on learning techniques that nurture boys' curiosity, creativity, and confidence. The results speak for themselves: All Kiski graduates are accepted into four-year colleges or universities, 80 percent of which are Top 100 institutions.