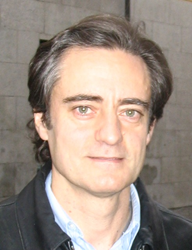 Dr. Gozalo's research study is an excellent example supporting FOTO's research mission.
Knoxville, TN (PRWEB) June 03, 2014
Focus on Therapeutic Outcomes, Inc. (FOTO) is pleased to announce the first D.L. HART Memorial Outcomes Research Grant Award for $10,000 to Dr. Pedro Gozalo (principle investigator) and Dr. Linda Resnik (co-investigator) from the School of Public Health, Brown University, RI.
FOTO is committed to remembering the great body of research produced by Dennis L. Hart PT, PhD with funding high quality research projects, in his name, that will lead to improvements in the quality of care and pay for performance programs for patients with musculoskeletal or neurological conditions who are referred to physical therapy. Dr. Gozalo's research study is an excellent example supporting FOTO's research mission. To learn more about the D.L. HART Memorial Outcomes Research Grant, program details, instructions and application please visit the Science of FOTO website.
FOTO president, Al Amato, PT, MBA stated that FOTO's mission of developing industry leading assessment tools and reports that are based in science was led by Dr Hart for 15 years before his untimely passing. FOTO continues this research emphasis by having research staff constantly working on improving the process of measuring, managing and reporting outcomes. Through this grant FOTO hopes to encourage other qualified researchers to expand the knowledge and science of outcome data collection and reporting. We are very pleased that a researcher with the credentials possessed by Dr Gozalo is the first recipient of the D.L Hart Memorial Outcomes Research Grant. FOTO will continue to fund this award to further the science of measuring and reporting outcomes.
About FOTO
FOTO is a Knoxville, TN, based corporation that has been continuously improving solutions that efficiently and reliably measure and report functional outcomes for the Rehab industry for 20 years. FOTO's Web-based solutions are risk-adjusted to enable fair and accurate measurement and predictions of the expected improvement in a patient's functional status. Approximately 5 million patient surveys have been compiled in the FOTO database, and researchers have utilized FOTO data to publish over 85 articles on functional outcomes in refereed medical journals. These publications have led the way in enhancing the science of measuring outcomes and the use of outcomes in payment methodologies.