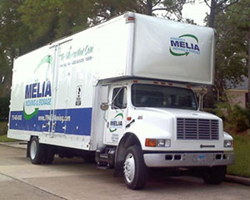 Houston, TX (PRWEB) May 21, 2014
May is National Moving Month and JTMelia Moving & Storage in Houston is ready! Every year, May is the busiest month for people moving to or from Texas, with 1,000 people moving into the state every day. On May 6, the nation's moving safety agencies, along with several reputable movers like JTMelia, joined forces to educate consumers about the industry at the Moving Month Kick Off in Austin, Texas.
At the Kick Off, speakers from the Federal Motor Carrier Safety Administration (FMCSA), the Texas Department of Motor Vehicles (TxDMV) and the Better Business Bureau (BBB) explained to homeowners the importance of picking a reputable mover like JTMelia.
"While moving company complaints in Texas have dropped by 39 percent since 2011, the Lone Star state still has the sixth most complaints in the country," said FMCSA Administrator Anne Ferro.
It falls to JTMelia and other industry leaders in Texas to continue improving the moving experience for Texas families. During the Kick Off, JTMelia and other companies in attendance answered questions and helped homeowners get the knowledge they need to make an informed decision. The TxDMV and BBB hope that this will help reduce the number of consumer complaints and instances of fraud this year. Carrie Hurt, the President and CEO for the BBB in Central, Coastal and Southwest Texas, stated that more than 2,500 complaints have already been sent to the BBB concerning moving companies this year.
To prepare for National Moving Month, JTMelia has added a number of trucks to its fleet and experienced personnel. JTMelia is also ready to help any families that have questions about the relocation process. JTMelia is licensed through the FMCSA and Department of Transportation, so it abides by all state and federal regulations. Licensed movers must provide every consumer with a detailed written estimate, a signed contract prior to and following the move, a brochure detailing a consumer's rights, and standard liability.
JTMelia is a family owned company that offers local moving services in the Houston area, along with long distance moving services around Texas, interstate moves, and international moves. For more information and a seamless move, contact JTMelia at (713) 683-8585.