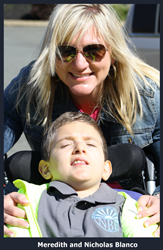 SoundConnect is committed to supporting our team; we are honored to be able to contribute to this amazing foundation and are so gratified to be part of the good work these organizations do everyday to help children and support families.
Washington, D.C. (PRWEB) May 20, 2014
SoundConnect, an industry leading unified communication and collaboration company, took a stand for Children at the 6th Annual Golf Invitational Benefit for the Nicholas Blanco Foundation. This Foundation's annual golf invitational supports programs for children with severe disabilities. The two main benefactors of this year fund-raiser are the Kennedy Krieger Institute in Baltimore, Maryland and the Paxton Campus, Open Doors Learning Center, in Leesburg, Virginia.
SoundConnect Account Executive, Meredith Blanco, of Ashland, Virginia, founded the Nicolas Blanco Foundation in honor of her son. In October 2007, Nicholas suffered an "Anoxic Brain Injury" as a result of an extraordinary home accident. This accident has left Nick with many severe disabilities. Since his accident, Nick has been a patient at various facilities including Kennedy Krieger.
As a means of giving back to the facilities that provide essential support for so many. This grassroots foundation was established with a mission to assist support programs that drive innovation in unparalleled care and family support. SoundConnect and its team members, Greg Plum & David Sessa, joined in the fun and came out in support of the Nicholas Blanco Foundation at this year's event.
"This is the 6th Annual Golf Invitational we have held to benefit organizations that have been instrumental in my son's care," says Blanco. "Cumulatively we have raised over $40,000 for children with severe brain injuries. I am honored and humbled to be able to give back to the organizations that have been so supportive of so many families, including mine. In January of this year I started working with the SoundConnect team. They have encouraged and contributed to this cause that is so dear to my heart." Blanco stated, "When SoundConnect hired me; they prided themselves on being a family first company. By supporting the foundation in my son's name, it reaffirms that I am where I am supposed to be, and SoundConnect is truly a family first company. I could not be happier or more grateful for my company's support and for the contribution the SoundConnect team made to make this event the most successful fundraiser we have had so far."
According to SoundConnect President, Tom Sullivan, "SoundConnect is committed to supporting our team; we are honored to be able to contribute to this amazing foundation and are so gratified to be part of the good work these organizations do every day to help children and support families."
The Kennedy Krieger Institute
This amazing institute is internationally recognized institution dedicated to improving the lives of individuals with disorders of the brain, spinal cord, and musculoskeletal system through patient care, research & professional training, special education and community programs.
The Paxton Campus, Open Door Learning Center
The facility is currently under construction and will serve, as an innovative inclusive school, teaching children ages 2-7 years of age who are developmentally delayed or have special needs.
SoundConnect specializes in unified business communications. Their offerings include a comprehensive portfolio of Unified Communication and Collaboration service: Microsoft Lync, Adobe Web Conferencing, WebEx Web Conferencing, Audio Conferencing, Webcasting, Video conferencing and hosted Microsoft Exchange. SoundConnect's comprehensive communication services are customized and implemented to optimize the requirements of their customers. SoundConnect's streamlined communications services improve productivity, expand communications, reduce operational expenses and provide tools to empower sales & marketing programs.
In 2013, SoundConnect made its debut on the Inc. 5000 list, as the 811th fastest growing American company and the 12th fastest growing telecommunications company. SoundConnect's had an astounding 557% growth in revenue since 2009. The Telecom Association also recently named SoundConnect among the top five Conferencing Providers for 2013. These honors showcases SoundConnect's long-term commitment of providing next generation business communication solutions and customer service excellence.