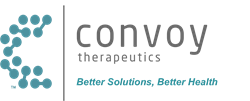 Oro Valley, Arizona (PRWEB) May 21, 2014
Convoy Therapeutics to attend BIO International 2014 in San Diego, CA
Convoy Therapeutics, Inc. announced today that it will attend the 2014 Bio International Convention in San Diego, CA from June 23-26.
Ann Deren-Lewis, VP of Business Development, will be available to meet with both strategic partners and investors to introduce or update them on progress with Convoy's two lead programs: CycloPsorb™ for psoriasis and eczema; and Khalay HA™ for wrinkle reduction. Following Convoy's recent partnership deal for the Korean market, the company is looking to discuss additional partnership opportunities for both of its lead programs.
To arrange a meeting with Mrs. Deren-Lewis, please contact Debbie Rinaldi or use BIO's One-on-One Partnering system. To access the Partnering system, please visit: http://convention.bio.org/partner/ or https://oneononepartnering.bio.org/BIO2014.
About Convoy Therapeutics
Convoy Therapeutics is a biopharmaceutical company focused on unmet needs in the medical dermatology and aesthetics markets, using cutting edge science to solve significant problems and provide optimized outcomes for patients. The company's transformative products are based on its proprietary family of SPACE™ peptides and formulation techniques, which provide exceptional enhancement of macromolecule penetration into the skin, and also enhance the localization and retention of small molecules in the skin for extended duration of action.
Convoy's lead programs are CycloPsorb™, the first topical formulation of cyclosporine for psoriasis and eczema, and Khalay HA™, a topical hyaluronic acid filler for the rapid treatment of fine lines and wrinkles.
Convoy's groundbreaking product development program is supported by ongoing private investment and by strategic partners.